page
NC Heartland Schedule, Sept. 27-29, 2017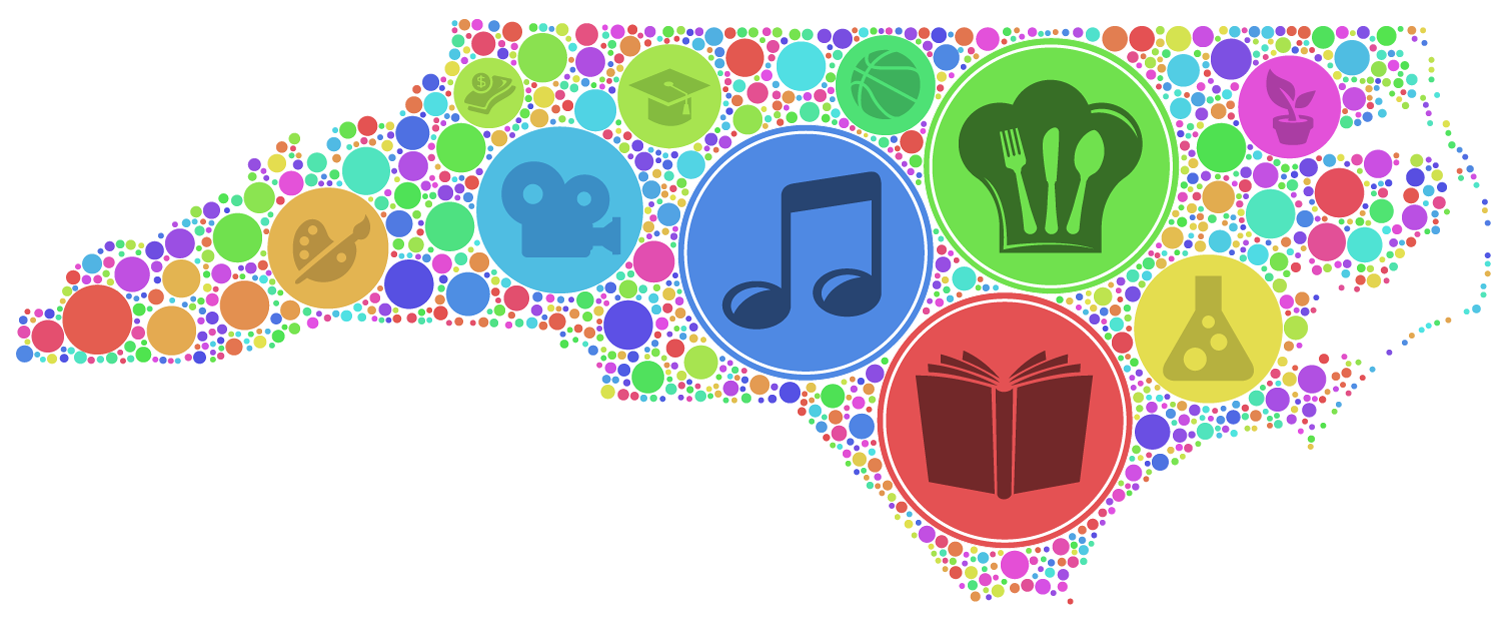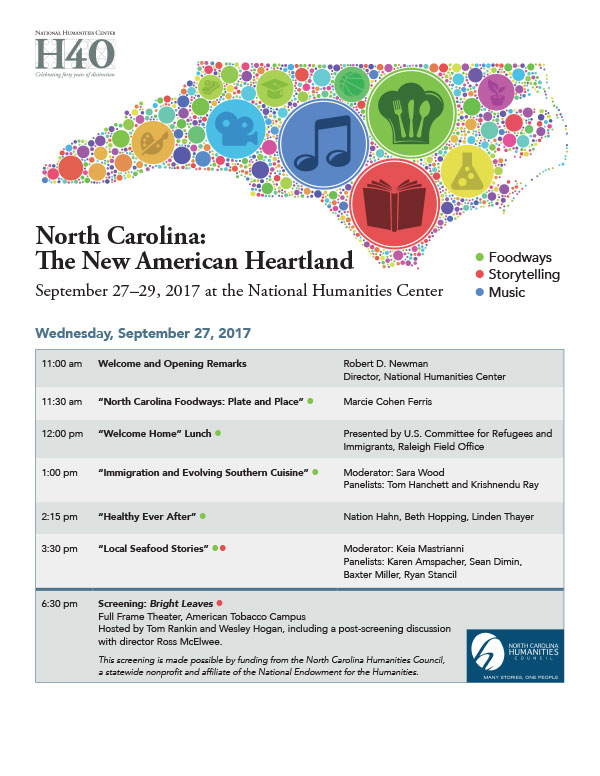 Schedule of Events
Unless otherwise indicated, all events will be held at the National Humanities Center (7 T. W. Alexander Drive, Research Triangle Park, NC).
Key: Foodways Storytelling Music
Wednesday, September 27, 2017
11:00 a.m. – Welcome and Introduction
Robert D. Newman, President and Director (National Humanities Center)
11:30 a.m. – Presentation: North Carolina Foodways: Plate and Place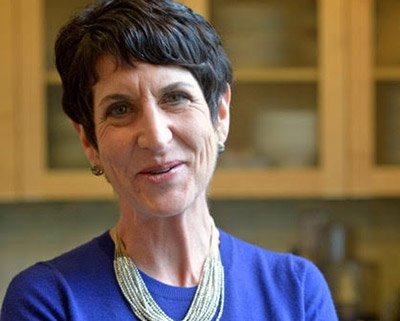 Marcie Cohen Ferris, professor of American Studies at the University of North Carolina at Chapel Hill, will introduce the 'grammar' of the state's contemporary food cultures, providing context for the day's programming focus on food and community. An expert in the foodways and material culture of the American South, Ferris is the author of The Edible South (2014) and Matzoh Ball Gumbo: Culinary Tales of the Jewish South (2010).
12:00 p.m. – "Welcome Home" Lunch
Between October 2016 and May 2017, 1,647 refugees were settled in North Carolina, primarily from the Democratic Republic of Congo, Syria, Somalia, Iraq and Burma. For many of these individuals and families, the foods of their country help keep them connected to home and provide a familiar foundation to thrive in a new nation. Presented in collaboration with the U.S. Committee for Refugees and Immigrants (USCRI) this luncheon will include tasting dishes prepared by three refugee chefs, representing the cuisine of their home countries. Kenyan-born chef and food activist Njathi Wa Kabui will round out the meal incorporating vegetables from his farm in Moncure, NC. During the lunch, USCRI Raleigh Field Office Director Scott Phillips will offer an update on the refugee resettlement process in North Carolina and Kabui will introduce his approach to farming and cooking in the South.
1:00 p.m. – Presentation: Immigration and Evolving Southern Cuisine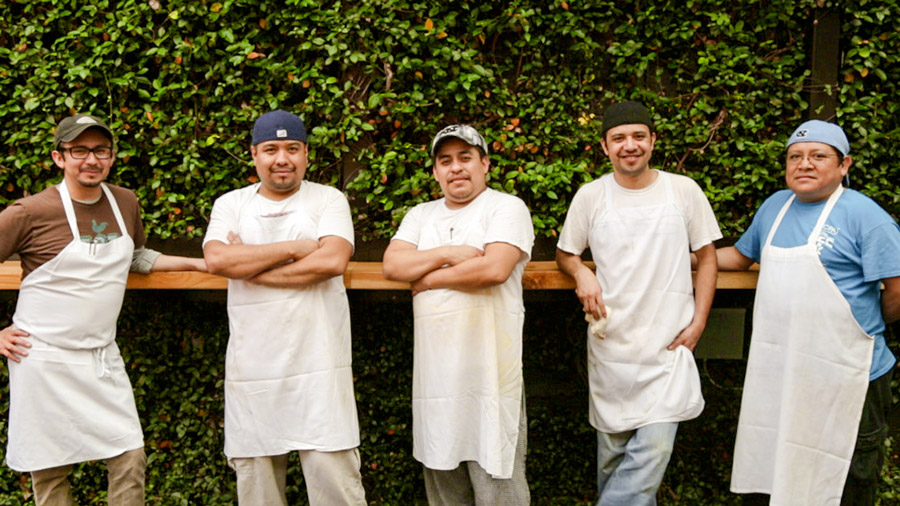 The presentation will begin with a screening of the short documentary, "What Mexican Chefs Cook at Home: La comida de los Cocineros" (Andrea Patino Contreras and Victoria Bouloubasis, 2016). This 6-minute film shows how the influence of immigrants working in kitchens is a two-way street—they learn from the restaurant's dishes, and the restaurant is influenced in turn by their cuisine. This will be followed by a presentation from Krishnendu Ray, from NYU-Steinhardt and author of The Ethnic Restaurateur (2016), on the national growth of immigrant-owned restaurants and cuisines. Tom Hanchett, former curator of the Levine Museum of the New South and author of the essay, "A Salad Bowl City: The Food Geography of Charlotte, North Carolina" (Oct 2013), will give local context for Ray's presentation. Oral historian Sara Wood (Southern Foodways Alliance, Southern Oral History Program) will moderate a closing conversation between the panelists, Chef Njathi Wa Kabui, and the audience.
2:15 p.m. – Presentation: Healthy Ever After
Almost one in every four children in North Carolina regularly go to bed, and to school, hungry. In 2016, EducationNC (EdNC), a nonpartisan news source for education reporting, launched Reach NC Voices, a statewide project to better understand the broad array of issues facing students, parents, educators, and communities, including school nutrition. Nation Hahn from EdNC will be joined by Beth Hopping and Linden Thayer of the Food Insight Group to discuss challenges and possible solutions to improving school lunch programs on a state and national level.
3:30 p.m. – Presentation: Local Seafood Stories
With three hundred miles of coastline, North Carolina's seafood economy supports historical fishing communities striving to meet demand, abide by regulations, and succeed in a quickly changing market. Keia Mastrianni, a food writer and oral historian for the Southern Foodways Alliance project in Harkers Island, opens this session by sharing the voices of this historic fishing community. Karen Amspacher, executive director for the Core Sound Waterfowl Museum & Heritage Center, and Zack Davis, a commerical fisherman and high school teacher from Carteret County, will provide an update on how the current political landscape and changes in coastal economics are affecting the industry. Independent media producers Baxter Miller and Ryan Stancil will discuss how storytelling in coastal North Carolina has the potential for generating real economic support in addition to increasing appreciation for, and awareness of, its deep-rooted traditions. While this panel is focused on NC's seafood industry, the conversation over regulations and creative marketing is relevant for rural producers everywhere.
6:30 p.m. – Screening: Bright Leaves (2003)
Full Frame Theater, American Tobacco Campus Reserve Seats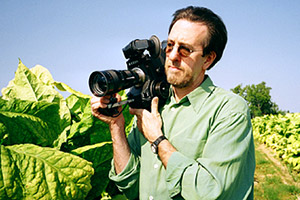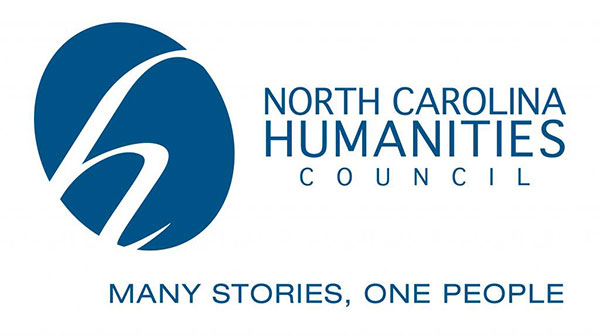 Note: This screening is free and open to the public. However, space is limited and reservations are required.
In partnership with the Center for Documentary Studies at Duke University and the Full Frame Documentary Film Festival, acclaimed documentary filmmaker Ross McElwee will screen his film about tobacco and smoking, his family's deep historical ties to the North Carolina tobacco industry (his great-grandfather was a competitor to James B. Duke), and the slippery nature of filmmaking and family history. The screening will be followed by a Q&A session and discussion with the filmmaker, novelist Allan Gurganus (who appears in the film), and photographer, filmmaker, and folklorist Tom Rankin. Wesley Hogan, Director of the Center for Documentary Studies at Duke University, will introduce McElwee.
Thursday, September 28, 2017
1:00 p.m. – Remarks: The Honorable James B. Hunt
One of North Carolina's most recognizable leaders, James B. Hunt, Jr. was elected four times as the state's governor (1977–1985, 1993–2001). While in office, Hunt focused considerable attention on improving the state's education system and economic development and in the years since has continued these efforts through the Institute for Emerging Issues at North Carolina State University and the Hunt Institute, an affiliate of the Duke University Sanford School of Public Policy.
1:30 p.m. – Panel Discussion: Resistance, Protest, and Activism in North Carolina Music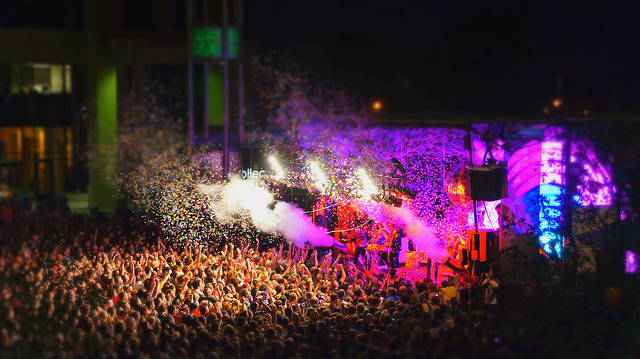 Is music inherently political or apolitical? How have musicians in the state aligned or unaligned their politics and ethics with their music, both historically and today? What place does the music of protest have in the landscape of North Carolina? How might it address or rectify oppressive situations? These are some of the questions this panel will seek to address. Key participants in this discussion, moderated by IndyWeek music editor Allison Hussey, will include musicians Mykki Blanco, ZenSoFly, and Shirlette Ammons, music writers Grayson and Tina Haver Currin, ethnomusicologist Will Boone, and musician and social entrepreneur Pierce Freelon.
3:00 p.m.–5:00 p.m. – Storytelling Session / Panel Discussion: Storytelling and Sense of Place in North Carolina
The first of two Storytelling Sessions (the second is scheduled for Friday, 9/29) will feature poet Dasan Ahanu, historian Malinda Maynor Lowery, and novelist Allan Gurganus either reading from their work or recounting a story from the oral tradition that is relevant to the concepts of home/homelessness, North Carolina identity, and sense of place in North Carolina. Their presentations will be followed by a panel discussion moderated by documentarian Michelle Lanier, director of the North Carolina African American Heritage Commission.
5:00 p.m. – Dinner on the Grounds / Performance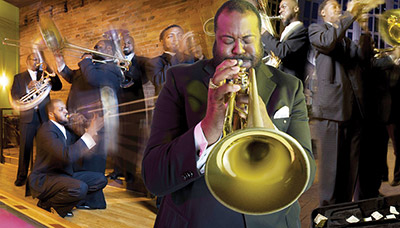 Thursday's events at the National Humanities Center will conclude with a dinner for Heartland attendees prepared by North Carolina folklorist and historian Jefferson Currie, with assistance from the NHC kitchen staff. The menu will feature chicken bog, collard greens, and corn bread—deeply traditional dishes of Southeastern North Carolina—informed by Currie's Lumbee heritage and prepared in a cauldron over an open fire. Attendees will also be treated to a performance by Mangum and Company: a gospel brass "shout band" representing the unique and powerful brass-based praise music of the United House of Prayer in Charlotte.
8:00 p.m. Concert – Raise Up (Hip-Hop Beyond Binaries) featuring Mykki Blanco and ZenSoFly
The ArtsCenter in Carrboro, NC Buy Tickets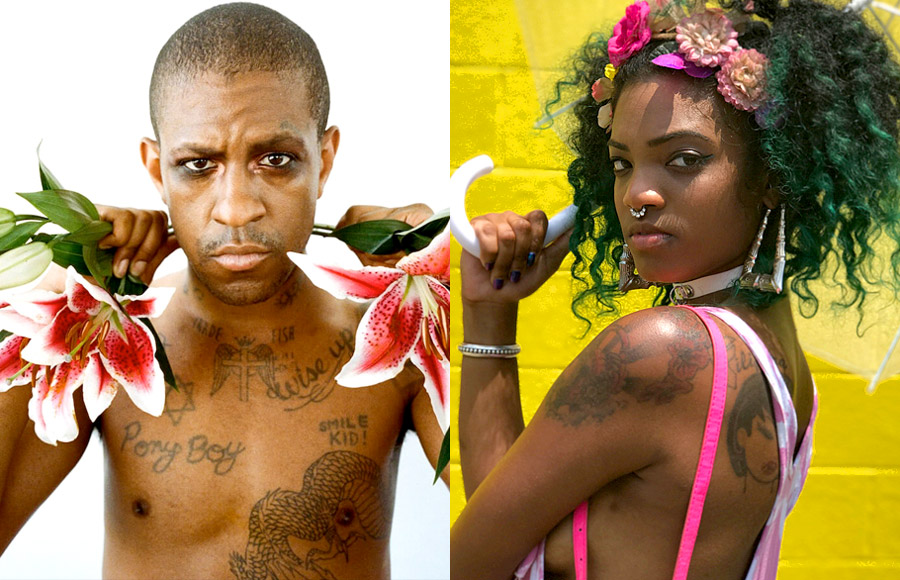 Any discussion of contemporary vernacular music–and the music of protest and identity politics–must highlight hip-hop, the most widely influential and impactful genre of the last three decades. In the realm of hip-hop, North Carolina has had a lower profile than some other Southern states, but that is rapidly changing. NC hip-hop artists are at the vanguard of advancing the state's musical legacy building on its world-renowned soul, jazz, and protest music traditions. With their challenging and innovative work, Mykki Blanco and ZenSoFly push aggressively and artfully against the hip-hop's traditional genre expectations in terms of sonics, identity, lyrical content, and style.
Mykki Blanco is the transgender, or gender-fluid, stage persona of rapper, writer, and performance artist Michael Quattlebaum, who grew up in Raleigh and whose visionary, art-inflected music and videos have earned devoted audiences and high praise, including i-D Magazine's designation of Mykki as "the most compelling rapper of his generation."
ZenSoFly, the rising young rapper, DJ, and producer—"Rap's Underground Princess"—hails from Raleigh. She has performed at Moogfest and Hopscotch, and her infectious, cross-genre music has been celebrated by the likes of NPR Music.
Friday, September 29, 2017
9:30 a.m.–11:30 a.m. – Storytelling Session / Panel Discussion: Storytelling and Sense of Place in North Carolina
This Storytelling Session will feature journalist Paul Cuadros, writer Michelle Dove, and novelist Jill McCorkle either reading from their work or recounting a story from the oral tradition that is relevant to the concepts of home/homelessness, North Carolina identity, and sense of place in North Carolina. Their presentations will be followed by a panel discussion moderated by Robert D. Newman, president and director of the National Humanities Center.
11:30 a.m.–1:45 p.m. – Lunch / Public Discussions: Black Lunch Table: The People's Table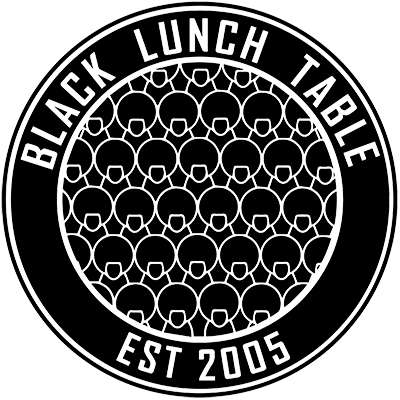 The Black Lunch Table (BLT) is an ongoing oral-history archiving collaboration between artist and UNC assistant professor of art Jina Valentine and New York-based artist Heather Hart. The BLT's primary aim is the production of discursive sites, fostering candid conversations, over shared meals, amongst a diversity of people invested in issues of race and cultural production. For the Heartland project, Valentine and Hart will stage the Black Lunch Table: The People's Table, which is open to all community members interested in taking part in intergenerational, interdisciplinary dialogue. This conversation series endeavors to cross-pollinate the various discourses around issues affecting historically disenfranchised populations. BLT events have hosted politicians, activists, artists, community elders, high school students, media personalities and your neighbors. These conversations will become part of the BLT dynamic online archive. Chef Ricky Moore of Saltbox Seafood in Durham will cater this lunchtime discussion.
Note: To maintain the integrity and structure of the project, participation in the Black Lunch Table requires separate registration. Those conference participants who wish to participate should sign up in advance and complete a very simple questionnaire. Participation is not mandatory, although it is an important and interesting project and we strongly encourage this. Those who do not sign up for the project can simply enjoy lunch.
1:45 p.m. – Panel Discussion: The Changing Identities and Perceptions of North Carolina Music and Musicians
What is traditional music, and who are traditional musicians? Who is a North Carolinian? Who is a Southerner? What constitutes an "authentic" North Carolina narrative, musical tradition, or musical community, if such things truly exist? Who promotes and sustains new musical forms and artists, and why? How does music reify, synthesize, and challenge regional, generational, cultural, and political identities? Discussing these and other questions will be anthropologist Samuel Byrd (Hunter College); folklorist Jefferson Currie; Mary Alta Feddeman of Girls Rock NC; ethnomusicologist David Garcia; and musicians Nathan Bowles, Jake Xerxes Fussell, and Mary Lattimore.
3:00 p.m. – Panel Discussion: Visual Storytelling and Sense of Place in North Carolina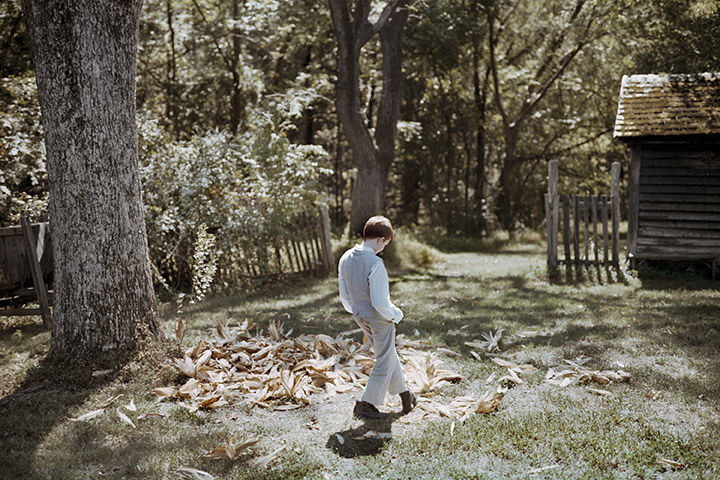 Throughout the fall the National Humanities Center will host the exhibition, "Melt with Ruth": Visions of Home and Horizon in North Carolina, featuring the work of artists Diego Camposeco, Aaron Canipe, Jing Niu, and Jina Valentine exploring notions of home, identity, geography, and sense of place in North Carolina. The show takes its title from the lesser-quoted phrase that follows "Look homeward Angel" in John Milton's poem "Lycidas," which Asheville native Thomas Wolfe appropriated as the title of his classic 1929 autobiographical novel. In this panel, moderated by Brendan Greaves, the artists will discuss their diverse and dynamic work within the context of the Heartland project's overarching themes—from Canipe's arresting photographs of often overlooked, everyday landscapes to Valentine's handmade paper-and-ink compositions about the political and social challenges facing the disenfranchised to the work of filmmakers Camposeco and Niu exploring the lives of immigrants.
4:15 p.m. – Remarks / Reception / Performance
Events at the National Humanities Center will conclude with remarks by Congressman David Price (NC-4), a reception, and a musical performance by Los Angeles-based harpist and composer Mary Lattimore.

8:00 p.m. – Concert: Roots Uprooted (North Americana String Bands in North Carolina) featuring Jake Xerxes Fussell and Nathan Bowles, House and Land, and Trío Huracán Hidalguense
The ArtsCenter in Carrboro, NC Buy Tickets
From soul to jazz to indie rock, North Carolina is known internationally as a crucible of American vernacular music, and the traditions of string-based roots music, or "Americana"–bluegrass, country, rockabilly, country-rock–have captivated the popular imagination, coming to represent the state's composite musical identity. Likewise, the music of recent arrivals and immigrants has always been an important feature in the landscape of North Carolina music. These three acts represent a fascinating cross-section of string band music and its contemporary iterations and mutations within the firmament of Southern roots music, a portrait of "North Americana" in North Carolina.
Jake Xerxes Fussell and Nathan Bowles: Guitarist and singer Fussell and banjoist, drummer, multi-instrumentalist, and composer Bowles have earned critical acclaim, individually and collectively, for their unique interpretations, interpolations, and recontextualizations of traditional and vernacular Southern music. This performance offers an exciting opportunity to witness a collaborative set by these two local luminaries.
House and Land: The Asheville area duo of fiddler, multi-instrumentalist, and square dance caller Sally Anne Morgan (also a member of renowned string band the Black Twig Pickers) and guitarist Sarah Louise explores the intersection of traditional Appalachian music and drone. These two accomplished players recently released their first album as a duo on Thrill Jockey Records.
Trío Huracán Hidalguense: Son huasteco is a traditional string-band style—usually performed by trios of guitarra quinta huapanguera, Jarana huasteca, and violin—originating in La Huasteca, a region in east-central Mexico that includes the states of Tamaulipas, Veracruz, Puebla, Hidalgo, San Luis Potosí, Querétaro, and Guanajuato. Its vibrant practice and contemporary influence now extends into North Carolina with groups such as Trío Huracán Hidalguense.