The Center annually welcomes up to forty scholars from all fields of the humanities. Individually, the Fellows pursue their own research and writing. Together, they create a stimulating intellectual community.
The National Humanities Center appointed 32 Fellows for the academic year 2020–21. Chosen from 673 applicants, they represent humanistic scholarship in African American studies; Asian studies; classics; comparative literature; East Asian languages and literature; English language and literature; environmental studies; film and media studies; history; history of art and architecture; Latin American studies; legal history; medieval studies; philosophy; postcolonial studies; rhetoric; and theater, dance, and performance studies. Each Fellow will work on an individual research project and will have the opportunity to share ideas in seminars, lectures, and conferences at the Center.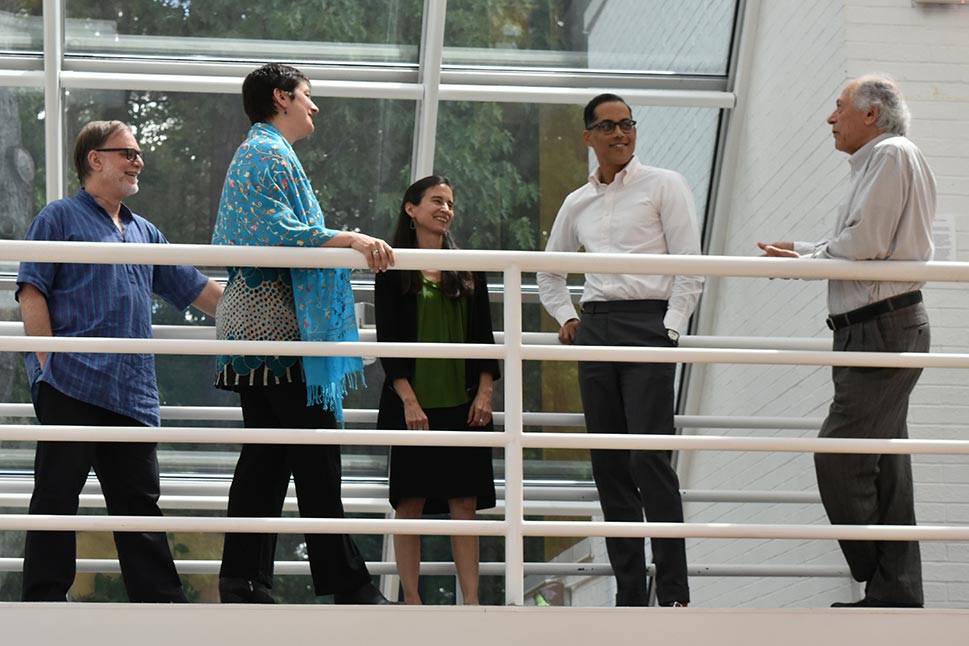 Marcus Anthony Allen, 2020–21
African American Studies, North Carolina A&T State University
Is Poverty Always Poverty?: Understanding Black Capitalism in 19th Century Baltimore
Melissa Bailes, 2020–21
English Language and Literature, Tulane University
Nature's Clockwork: The Natural History of Time in British Literature, 1759–1859
Emily Baragwanath, 2020–21
Classics, University of North Carolina at Chapel Hill
Xenophon's Women
Brandi C. Brimmer, 2020–21
African American Studies, Spelman College
The Other Douglass: Frederick C. Douglass, A Black Freedom Fighter in the Post-Reconstruction South
Ryan E. Emanuel, 2020–21
Environmental Studies, North Carolina State University
Water in the Lumbee World: Environmental Justice, Indigenous Rights, and the Transformation of Home
Fernando Esquivel-Suárez, 2020–21
Latin American Studies, Spelman College
The Pablo Escobar Mixtape
Bryna Goodman, 2020–21
History, University of Oregon
Finance and Fortune: Economics, Calculation, and the Fate of the Chinese Republic
Alexis Pauline Gumbs, 2020–21
African American Studies, Mobile Homecoming Trust Living Library and Archive
The Eternal Life of Audre Lorde: Biography as Ceremony
Rivi Handler-Spitz, 2020–21
Asian Studies, Macalester College
Contentious Conversations: Masters, Disciples, and the Culture of Yulu Literature in Late Ming China
Jordynn Jack, 2020–21
Rhetoric, University of North Carolina at Chapel Hill
Training the Brain: Rhetoric, Neuropolicy, and Education
Michael Johnston, 2020–21
Medieval Studies, Purdue University
The Reading Nation in the Age of Chaucer: English Books, 1350–1500
Tong King Lee, 2020–21
East Asian Languages and Literature, The University of Hong Kong
Creative Writing and the Semiotics of Crisis in Contemporary Hong Kong
Adriane Lentz-Smith, 2020–21
History, Duke University
The Slow Death of Sagon Penn: State Violence and the Twilight of Civil Rights
Janny HC Leung, 2020–21
Film and Media Studies, The University of Hong Kong
Language Crimes in the Digital Age
Keith D. Miller, 2020–21
History, Arizona State University
Who Wrote The Autobiography of Malcolm X?
Gregg Mitman, 2020–21
Environmental Studies, University of Wisconsin–Madison
Bloodborne: Invasion and the Politics of Disease
Christopher Moore, 2020–21
Philosophy, The Pennsylvania State University
The Virtue of Agency: Sôphrosunê and Selfhood in Ancient Greece
Georgia Mouroutsou, 2020–21
Philosophy, King's University College at Western University Canada
Plato's Twofold Dialectic of Pleasure: Critical Dialogue with Hedonists and Critical Analysis of Pleasure
Martin Munro, 2020–21
Post-Colonial Studies, Florida State University
Listening to the Caribbean: Sounds of Slavery, Resistance, and Freedom
Joan Neuberger, 2020–21
History, University of Texas at Austin
Global Eisenstein: Immersion in Nature, Art, and the World
James Ocita, 2020–21
English Language and Literature, Makerere University, Uganda
Spaces, Subjectivities and Textualities: Towards a Postcolonial Spatial Theory
Helmut Puff, 2020–21
History, University of Michigan
The Time of the Antechamber: A History of Waiting (1500–1800)
Mrinalini Rajagopalan, 2020–21
Architecture, University of Pittsburgh
Marks She Made: The Art and Architecture of Begum Samru, 1803–1836
Gabriel N. Rosenberg, 2020–21
History, Duke University
Purebred: Making Meat and Eugenics in the Modern United States
Crystal R. Sanders, 2020–21
History, The Pennsylvania State University
America's Forgotten Migration: Black Southerners' Quest for Graduate Education in the Age of Jim Crow
Mitra Sharafi, 2020–21
Legal Studies, University of Wisconsin–Madison
Fear of the False: Forensic Science in Colonial India
Eli Park Sorensen, 2020–21
Comparative Literature, The Chinese Univeresity of Hong Kong
The Genre of Korean Adoption Autobiographies
Lester Tomé, 2020–21
Theatre' Dance' and Performance Studies, Smith College
The Avant-garde Imagination: Transatlantic Visions of Ballet
Aarthi Vadde, 2020–21
English Language and Literature, Duke University
We the Platform: Contemporary Literature after Web 2.0
Rachel Watson, 2020–21
English Language and Literature, Howard University
Material as Evidence: Crime and Identity in American Literature, 1894–1968
Saundra Weddle, 2020–21
Architecture, Drury University
Architecture, Mobility, Segregation: The Everyday Spatial Practices of Women in Early Modern Venice
Molly Worthen, 2020–21
History, University of North Carolina at Chapel Hill
Spellbound Nation: Charisma in American History
Kathlene Baldanza, 2020–21
The Pennsylvania State University
A Miscellany of the Southern Seas: A Qing Scholar Adrift in Vietnam
Neşe Özgen, 2020–21
Duke University
Infrastructure Space and the Future of Migration Management: The EU Hotspots in the Mediterranean Borderscape
Robert Schine, 2020–21
Middlebury College
Humanist in Exile: From Erlenbach to Ohio
Robert Weddle, 2020–21
Drury University
The Polder Model and the Meaning of Contemporary Public Space in the Netherlands
Current Fellows by the Numbers
Disciplines 2020-21
Ranks 2020-21