The Center annually welcomes up to forty scholars from all fields of the humanities. Individually, the Fellows pursue their own research and writing. Together, they create a stimulating intellectual community.
The National Humanities Center appointed 35 Fellows for the 2023–24 academic year. Chosen from 541 applicants, they represent humanistic scholarship in African American studies; anthropology; archaeology; Asian American studies; East Asian studies; ethnomusicology; gender and sexuality studies; history; history of art and architecture; information studies; languages and literature; media studies; medieval studies; music history and musicology; philosophy; psychology; religious studies; and Slavic studies. Each Fellow will work on an individual research project and will have the opportunity to share ideas in seminars, lectures, and conferences at the Center.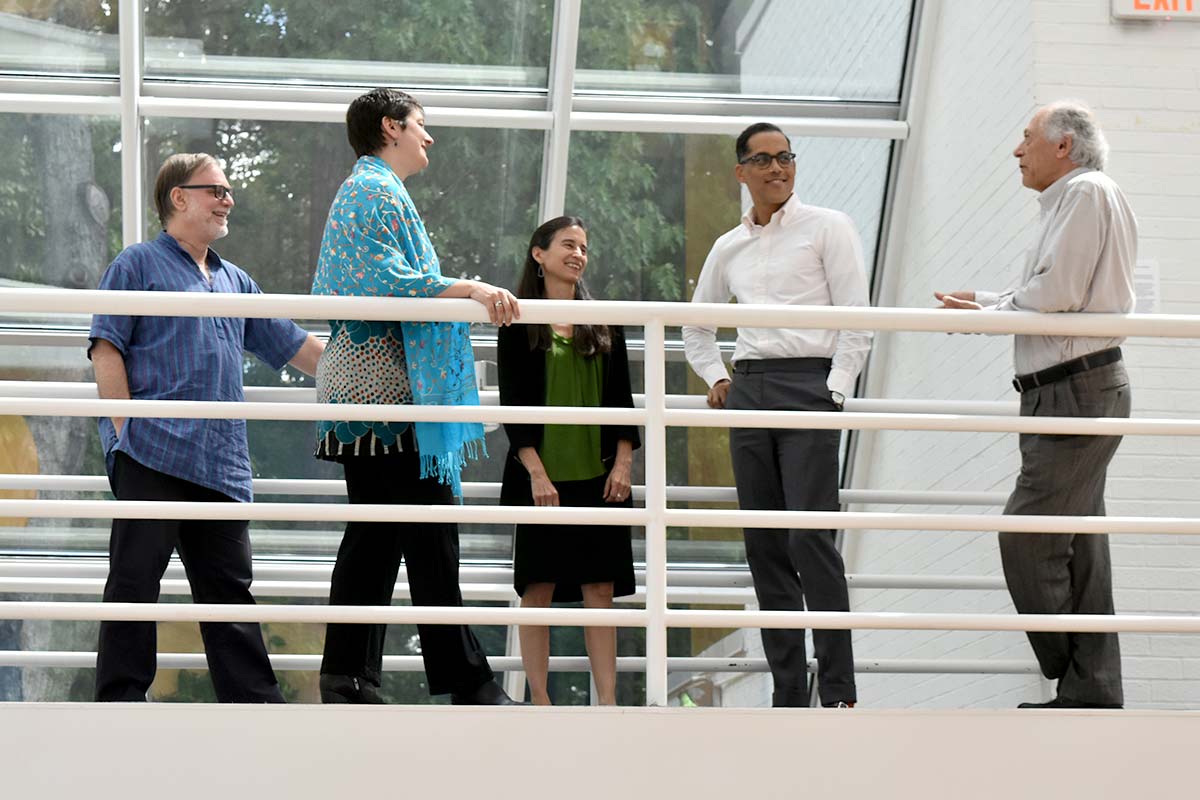 Project disciplines and home institutions are noted for each Fellow.
Adeshina Afolayan, 2023–24
Philosophy, University of Ibadan
Philosophy in the Dancehall: Philosophy and Popular Music in Postcolonial Nigeria
Ana Mariella Bacigalupo, 2009–10; 2023–24
Anthropology, University at Buffalo
The Subversive Politics of Sentient Mountains: Collective Ethics and Climate Justice in Northern Peru
Oleg Budnitskii, 2023–24
History, HSE University
"The Red Army is not Ideal": Soviet Soldiers' Violence Against Civilians, 1939–1947
Bibi Burger, 2023–24
Languages and Literature, University of Cape Town
The Whiteness of Afrikaans Literary Feminism
Moon Charania, 2023–24
Gender and Sexuality Studies, Spelman College
Meditations on Brownness
Justin T. Clark, 2023–24
History, Nanyang Technological University, Singapore
The Clockwork Republic: Sociolegal Culture, Time, and Struggle in the United States, 1787–1860
Katherine Davies, 2023–24
Philosophy, The University of Texas at Dallas
Care as Custody: A Critical Feminist Phenomenology of the US Foster Care System
Andrea U. De Giorgi, 2023–24
Archaeology, Florida State University
Cosa and the Water Systems of the Roman Conquest of Italy (3rd–2nd c. BCE)
Xiaolin Duan, 2023–24
History, North Carolina State University
Three Cities of the Early Modern Pacific: Connections and Conflicts between the Ming Dynasty and the Spanish Empire
Devin Fergus, 2023–24
History, University of Missouri
The Making and Unmaking of One America: President Clinton's Initiative on Race
Sean L. Field, 2023–24
Medieval Studies, The University of Vermont
Women Writing Saints' Lives: Gendered Authority and Female Authorship in the Middle Ages
Frederico Freitas, 2023–24
History, North Carolina State University
Concrete Tropics: An Environmental History of Brazil's Modernist Capital
Michael S. Gorham, 2023–24
Slavic Studies, University of Florida
Networking Putinism: The Rhetoric of Power in the Age of New Media Technology
Sally E. Hadden, 2023–24
History, Western Michigan University
One Supreme Court
Natasha R. Howard, 2023–24
Media Studies, Morehouse College
Relationship Themes and Scripts in the Music of Black Female Rappers, 2012–2022
Yohei Igarashi, 2023–24
Languages and Literature, University of Connecticut
Word Count: Literary Study and Data Analysis, 1875–1965
Richard M. Jaffe, 2004–05; 2023–24
Religious Studies, Duke University
Spreading Indra's Net: A Biography of D. T. Suzuki
Karima K. Jeffrey-Legette, 2022–23; 2023–24
African American Studies, Hampton University
Black Girls Write the Future: A Scholarly Investigation of Speculative Fiction by or about Women and Girls of African Descent
Tom Johnson, 2023–24
History, University of York
The Reckoners: Economic Life in a Fifteenth-Century Fishing Village
Lisa A. Lindsay, 2004–05; 2023–24
History, University of North Carolina at Chapel Hill
"Unity": African Women and Resistance in the Atlantic Slave Trade
Rebecca Maloy, 2023–24
Music History and Musicology, University of Colorado Boulder
Sounding the Saints in Early Medieval Iberia
Sequoia Maner, 2023–24
African American Studies, Spelman College
A Critical History of Black Elegy in the United States
Stella Nair, 2023–24
History of Art and Architecture, University of California, Los Angeles
Inca Architecture: Chapters in the History of a (Gendered) Profession
Marguerite Nguyen, 2023–24
Asian American Studies, Wesleyan University
Refugee Ecologies: Forced Displacement and American Literature
Wanda S. Pillow, 2023–24
Gender, Race, and Sexuality Studies, The University of Utah
Troubling Intimacies: Sacajawea and York as National Subjects
Miriam Posner, 2023–24
Information Studies, University of California, Los Angeles
Seeing Like a Supply Chain: The Hidden Life of Logistics
Richard J. Powell, 1995–96; 2023–24
History of Art and Architecture, Duke University
Colorstruck! Painting, Pigment, Affect
David M. Robinson, 2023–24
East Asian Studies, Colgate University
Ability and Difference in Early Modern China
Jonathan Sachs, 2014–15; 2023–24
Languages and Literature, Concordia University
Slow Time
Matt Sakakeeny, 2023–24
Ethnomusicology, Tulane University
Music is Life: Coming-of-Age Stories from the Margins of America
Abigail Susik, 2023–24
History of Art and Architecture, Willamette University
Afrosurrealism and Anti-racism
E.K. Tan, 2023–24
East Asian Studies, Stony Brook University
Queer Homecoming: Translocal Remapping of Sinophone Kinship
Elanor Taylor, 2023–24
Philosophy, Johns Hopkins University
The Foundations of Social Metaphysics
Joan Titus, 2023–24
Musicology, University of North Carolina at Greensboro
Dmitry Shostakovich and Music for Thaw-Era Cinema
Su-Ling Yeh, 2023–24
Psychology, National Taiwan University
Enhancing Well-Being in the Age of AI: How Psychology Can Help
Patrick Connolly, 2023–24
Philosophy, Johns Hopkins University
Newton's Metaphysics of Substance: God, Bodies, and Minds
Lynn Mie Itagaki, 2023–24
Cultural Studies, University of Missouri, Columbia
Ignoring Suffering: How Representations of Bystanders Shape Responses to Human Rights
Anna Lindemann, 2023–24
Environmental History, University of Connecticut
Arctic Shifts
Shaoling Ma, 2023–24
Asian Studies, Cornell University
China in Loops
Erin Maglaque, 2023–24
History, The University of Sheffield
Care and Work in Early Modern Italy, 1500–1700
Current Fellows by the Numbers
Disciplines 2023-24
Ranks 2023-24