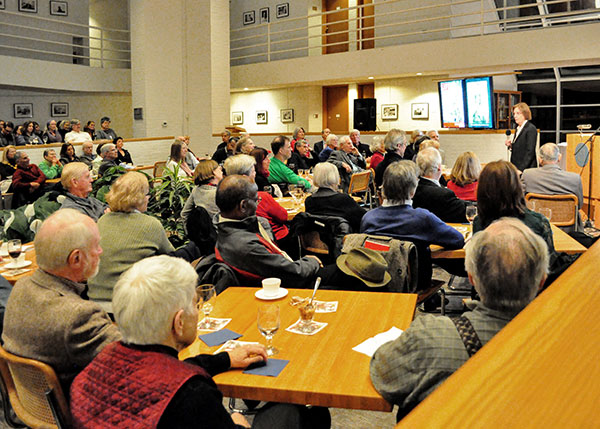 The National Humanities Center has announced its schedule of public lectures, exhibitions, and other events which touch on a wide range of topics. Events include lectures on Shakespeare's Othello, portrayals of slavery and freedom across the Atlantic world, the history of the industrial oyster, and Viking art.
The Center will also host a second, half-day "Novel Sounds" conference on American Fiction in the Age of Rock and Roll (March 3) considering the surprising relationship between rock and roll and literary traditions and practices from the ballad tradition up to the present. The conference will feature Grammy Award-winner Steve Earle in discussion with rock historian Peter Guralnick and novelist Roddy Doyle. In association with the conference, Steve Earle will be appearing in a concert that evening presented by Carolina Performing Arts at the University of North Carolina's Memorial Hall.
On exhibit throughout the spring will be "Textiles in Tiers," an exhibition of selected works from Chapel Hill artists Sandy Milroy, Trudy Thomson, and Rose Warner.
To learn more about specific events or to reserve space, please follow the links below.
Public Lectures at the National Humanities Center
Thursday, January 19, 6:00 p.m.
"Othello Was My Grandfather": Race and Shakespeare in the African Disapora
Kim Hall, Barnard College
Thursday, March 9, 6:00 p.m.
The Rise and Fall of the Industrial Oyster
Matthew Booker, North Carolina State University
Thursday, February 9, 6:00 p.m.
"Lexicon of Liberation": Imaging Slavery and Imagining Freedom in the African Atlantic Diaspora
Celeste-Marie Bernier, University of Edinburgh
Thursday, April 13, 6:00 p.m.
Vicious Vikings as Cultural Ambassadors
Nancy Wicker, University of Mississippi
Conference*
Friday, March 3, 1:00–5:30 p.m.
Novel Sounds II: American Fiction in the Age of Rock and Roll
*Limited seating; registration and admission required. Concert tickets sold separately by the Carolina Performing Arts ticket office.
On Exhibit
January 9–May 25
Textiles in Tiers
Selected Works by Sandy Milroy, Trudy Thomson, and Rose Warner, Chapel Hill, NC
Contact
Don Solomon
Director of Communications
919.406.0120
About the Center
The National Humanities Center is the world's only independent institute dedicated exclusively to advanced study in all areas of the humanities. Through its residential fellowship program, the Center provides scholars with the resources necessary to generate new knowledge and to further understanding of all forms of cultural expression, social interaction, and human thought. Through its education programs, the Center strengthens teaching on the collegiate and pre-collegiate levels. Through public engagement intimately linked to its scholarly and educational programs, the Center promotes understanding of the humanities and advocates for their foundational role in a democratic society.