page
AI in the Image: Artificial Intelligence as Medium and Collaborator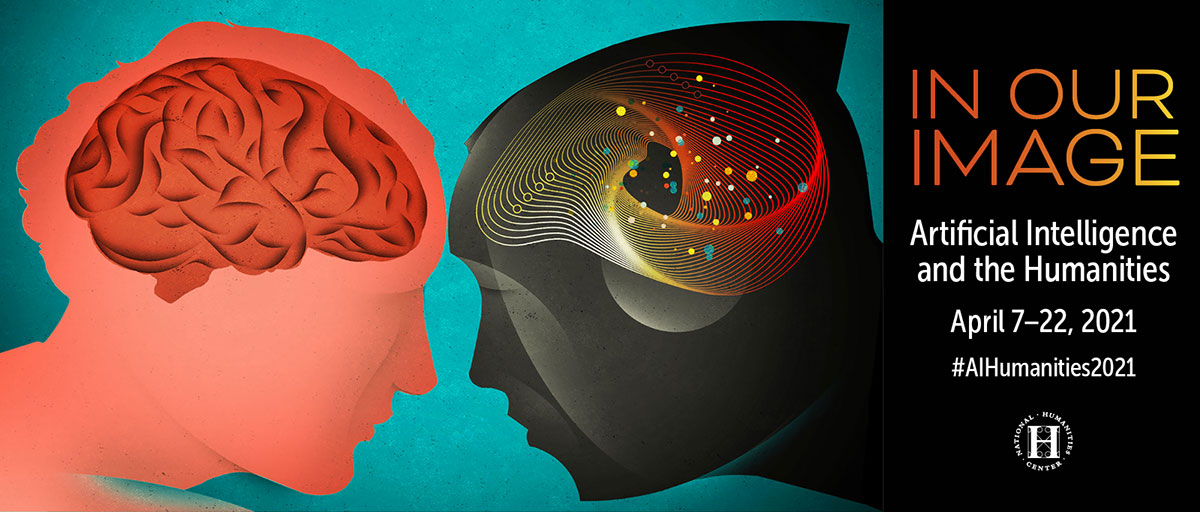 April 7–22, 2021 #AIHumanities2021
AI in the Image: Artificial Intelligence as Medium and Collaborator
A virtual exhibit curated by artist and scholar Ahmed Elgammal and featuring works by:

Join us on Tuesday, April 13 at 2:00pm EDT with moderator Marian Mazzone as artists Ahmed Elgammal and Carla Gannis discuss the exhibit and their personal experiences working with AI. To participate in this compelling conversation about future possibilities for artists, digital collaborators, and the use of AI in art, please register here.
About the Exhibit
With the prevalence of artificial intelligence in our daily lives, it's natural to ask, "What will be the future of art in an AI-driven society?" This question becomes even more relevant as AI increasingly appears in the creative domain. Across human history, artists have always integrated new technologies into their practice—from oil paint and printmaking in the Renaissance to photography, motion pictures, and computer animation in the modern era. AI is no exception, yet we need to understand how it is different.
Featuring curated selections from seven artists working in a variety of mediums, this exhibition tries to explore this territory by showcasing a wide spectrum of the ways in which artists interact with AI at different stages of their own creative processes. Works by artists Mattia Cuttini, Barry Olusegun-Noble Despenza, Ahmed Elgammal, Carla Gannis, Katya Grokhovsky, Patrick Lichty, and Anne Spalter offer a glimpse of what the future of artmaking might look like.
From interest in the uncanny AI aesthetics in Anne Spalter's works to the visual language of generative AI patterns and texture in Carla Gannis's and Patrick Lichty's works, artists are experimenting with how AI can bring newer forms to their concepts. The iterative collaborative process between the artist and the machine is evident in Katya Grokhovsky's interaction with AI as a fictional virtual assistant that learns the artist's own style and generates works based on the artist's own memories. Mattia Cuttini's work shows how artists can vacillate between physical works and generative digital works to achieve new patterns. Barry Olusegun-Noble Despenza utilizes AI capabilities to explore the connections between the post-digital era and the early decades of modernism, expanding cinema and disrupting the fabric of video art. Ahmed Elgammal's AICAN® algorithm pushes the autonomy of AI creation by exploring how AI can extrapolate from learning about art history.
In all the works in this exhibition, it is clear that the process is becoming collaborative. The artists have been influenced by AI aesthetics in a way that changed their original directions, and the role of AI transcends merely being a passive medium for creation to being a partner in the process. The future of art looks promising.
–Ahmed Elgammal, March 2021
Gallery
Click on individual images to view the full work and movement. You can then advance through the entire exhibit image by image, or return to the gallery view to read each artist's statement about their work.
"Generated" artworks series is the result of the Covid-19 lockdown. As the artist was unable to use his usual tools, he decided to try Playform AI platforms. Mattia fed the AI with his own black and white artworks including xeroxart and rubberstamp artworks from his production. The results were pretty amazing. All the materials were assembled in mandalas, square and hexagonal, static and animated. This series is an example of how collaborating with the AI can inspire the artist to change their initial concept and explore new unexpected forms.
Exscribing I is part of a body of work exhibited under the name "Seat of Sensation." Despenza constructed a process-driven body of work using a hybrid of experimental and traditional creative practices including archive, found footage and sound design samples. The work utilizes AI capabilities to explore the historic connections between the post-digital era and the early decades of modernism, expanding cinema and disrupting the fabric of video art. Most of all, Despenza is interested in the way our senses direct our experience with all forms of media and the ways in which AI helps guide this process.
Modeled from psychological theories of the brain's response to aesthetics, AICAN® is a complex algorithm that draws from art historical knowledge and a mandate to create something new, enabling it to make new artwork without human intervention. AICAN has been provided with over 100,000 images that represent the Western art canon over five centuries, learning the aesthetics of existing works of art and their evolution over time. At the same time, AICAN has been programmed to never create a work that too closely emulates existing styles—encouraging a creative approach that privileges novelty and visual stimulation, but also builds from art history. When working without an artist collaborator, AICAN chooses the style, subject, composition, colors, and texture of its work.
"Do Androids Dream of Endangered Animals?"
I often find conversations on artificial intelligence pivoting to the dangers of deep fakes and synthetic media, in their ability to obfuscate "true" reality. My intention is not to replicate the perceived world by using AI, instead, I seek to produce dream-like worlds, that speak to very real issues of our time, but through a visual language of liminality. The works in "Do Androids Dream of Endangered Animals?" began as a collaboration of sorts, with the AI platform Playform. I trained the AI on images of endangered species, to generate "skins" or texture maps for 3D modeled representations of at-risk animals. Many of the backgrounds in these works emerged by my teaching Playform to generate images that combined architecture from all seven continents with flora and fauna—to "stitch together" human-made constructions with biological nature. I also trained Playform on images of water, fresh water being another endangered resource on this planet. In some ways I feel that this series is elegiac, in my attempt to teach a machine about life on the planet at this moment in time—life that may not exist in subsequent eras but in the memories and dreams of future intelligences.
In her series, "Guest from the Future," artist Katya Grokhovsky explores the new realm of digital multiverse, through collaboration with a fictional AI assistant, AISA. Employing hundreds of web-based images of vintage postcards and snapshots of American theme parks, digitally collaged, manipulated and painted, juxtaposed with the artist's scanned copies of faded hand printed Soviet childhood photos, as well as film stills of a popular 1980's Soviet Sci Fi teen movie, trained and reassembled through the Playform AI platform, images from Guest from the Future propose innovative artmaking possibilities.
"The Personal Taxonomy" series derives from the use of GANs and Artificial Intelligence/Machine Learning systems to discern patterns from large bodies of data. The artist has been making large bodies of calligraphy pieces influenced by personal experiences with Japanese, Chinese, and Persian/Arabic calligraphy. The idea which this admittedly large body of work attempts to explore is Noam Chomsky's theories of "deep grammar," in which neurolinguistically, humanity has a predisposition to use certain structures in speech and symbolic thought. The work tries to find the deep grammar of the artist's own visual language through analyzing two large bodies of work, and seeing if patterns emerge, and what they are.
Fantasy Castles
A dreamlike sequence of AI-invented castles. Original audio. This Romanticist-inspired sequence uses the castle as a symbol of grandeur, mystery, power, fantasy, and aesthetic delight. AI images and sequence generation were created with Playform.io.
Where Are We Going?
AI-generated video from a GAN using an image set that includes original highway photographs as well as web images. A slowly morphing journey on an endless highway through different landscapes, weather moods and times of day. Inspired by the Romanticists' emphasis on individual journey and subjective emotion.
Artist Biographies
Mattia Cuttini
Mattia Cuttini is an Italian artist whose interdisciplinary practice is situated at the intersection of graphic design and blockchain technology. Cuttini pursued his education in technology, and later reinvented himself as an artist utilizing several mediums beyond visual including music and performance art. Now at the forefront of cryptography, Cuttini has expanded his practice using artificial intelligence. Either visual or acoustic, his art practice usually results from a sequence of interventions that vary in complexity. Cuttini's work has been featured on SuperRare, Known Origin, Async, and Medium. He works and lives in Italy.
Barry Olusegun-Noble Despenza
Barry Olusegun-Noble Despenza is a multidisciplinary artist who works in various mediums such as sound and moving image. Hailing from Chicago, Illinois, the artist received his BFA in Film/Cinema from San Francisco Art Institute. Despenza aims to make visible the invisible and to make visceral the intangible. Whether that is an architectural space or a space that is being evolved such as a dream space. Film/video are a morphing experiment with language beyond the literal to the abstract making use of music's ability to reach both the inner space (psychological) and outer space (acoustically). His ability to collaborate across various mediums allows for interdisciplinary innovation.
Ahmed Elgammal
Ahmed Elgammal is an artist and academic. He is the founder and director of the Art and Artificial Intelligence Laboratory, and a professor of computer science at Rutgers University. He developed AICAN®, an AI art generation algorithm. Dr. Elgammal's research on knowledge discovery in art history and AI art generation, received wide international media attention, including reports on the Washington Post, New York Times, NBC News, CBS News, the Guardian, the Daily Telegraph, Science News, New Scientist, and many others. In 2017, an Artsy editorial acclaimed AICAN as "the biggest artistic achievement of the year." In 2016, a TV segment about his research produced for PBS won an Emmy award. Elgammal's AICAN art has been shown in the National Museum of China, and several exhibitions in Los Angeles, Frankfurt, San Francisco, and New York City.
Carla Gannis
Carla Gannis is an interdisciplinary artist based in Brooklyn, New York. She produces works that consider the uncanny complications of grounded reality and virtual reality, nature and artifice, science and science fiction in contemporary culture. Fascinated by digital semiotics, Gannis takes a horror vacui approach to her artistic practice, culling inspiration from networked communication, art and literary history, emerging technologies and speculative design.
Gannis's work has appeared in exhibitions, screenings and internet projects across the globe. Recent projects include "Portraits in Landscape," Midnight Moment, Times Square Arts, NY and "Sunrise/Sunset," Whitney Museum of American Art, Artport. A regular lecturer on art, innovation and society, in March 2019 Gannis was a speaker at the SXSW Interactive Festival on the panel "Human Presence and Humor Make Us Better Storytellers." Publications that have featured Gannis's work include The Creators Project, Wired, FastCo, Hyperallergic, The Wall Street Journal, The New York Times, El PaÍs and The LA Times, among others. In 2015 her speculative fiction was included in DEVOURING THE GREEN:: fear of a human planet: a cyborg / eco poetry anthology, published by Jaded Ibis Press.
Gannis holds an MFA in Painting from Boston University. Currently, she is Industry Professor at New York University (NYU) in the Integrated Digital Media Program, Department of Technology, Culture and Society, Tandon School of Engineering.

Katya Grokhovsky
Katya Grokhovsky was born in Ukraine, raised in Australia and is based in NYC. She is an artist, curator and a Founding Director of The Immigrant Artist Biennial. Grokhovsky holds an MFA from the School of the Art Institute of Chicago, a BFA from Victorian College of the Arts and BA Honors in Fashion from Royal Melbourne Institute of Technology. Grokhovsky has received support through numerous residencies including The Elizabeth Foundation for the Arts (EFA) Studio Program, NYC, School of Visual Arts (SVA) MFA Art Practice Artist in Residence, NYC, Kickstarter Creator in Residence, Pratt Fine Arts Department Artist in Residence, Art and Law Fellowship, The Museum of Arts and Design (MAD) Studios Program, BRICworkspace Residency, Ox-BOW School of Art Residency, Wassaic Artist Residency, Atlantic Center for the Arts, Studios at MASS MoCA, NARS Residency, Santa Fe Art Institute Residency, Watermill Center and more. She has been awarded the Brooklyn Arts Council Grant, NYFA Fiscal Sponsorship, ArtSlant 2017 Prize, Asylum Arts Grant, Chashama space to create grant, Australia Council for the Arts ArtStart Grant, Freedman Traveling Scholarship and others. Her work has been exhibited extensively.
Patrick Lichty
Patrick Lichty is a media artist, writer, curator and designer of over 30 years. Born in Akron, Ohio in 1962, he was raised on art, technology, and science fiction. After getting his BS in Electronic Engineering and working in the discipline, he began an art and design studio in 1990, and created work for Accenture, Allstate Insurance and the X-Prize. As an activist and artist, he was part of or worked with the collectives RTMark, Pocha Nostra, The Yes Men, Terminal Time, Second Front, Shared Universe, and Critical Art Ensemble, showing in the Venice and Whitney Bienniales. His writing on VR, AR, and media culture are widely published, and for ten years he was Editor in Chief of Media Arts Journal Intelligent Agent, published by Christiane Paul, Adjunct Curator of the Whitney Museum of American Art. He lives in Abu Dhabi, United Arab Emirates.
Anne Spalter
Digital mixed-media artist Anne Spalter is an academic pioneer who founded the original digital fine arts programs at Brown University and The Rhode Island School of Design (RISD) in the 1990s. With a decades-long goal of integrating art and technology, Spalter has authored over a dozen academic papers and the seminal, internationally taught textbook, The Computer in the Visual Arts (Addison-Wesley, 1999). Alongside her studio practice, Spalter continues to lecture on digital art practice and theory. She is on the Digital Art Acquisitions Committee of the Whitney Museum of American Art.
Spalter's work is in the permanent collections of the Victoria and Albert Museum (London, UK); the Albright-Knox Art Gallery (Buffalo, NY); the Rhode Island School of Design Museum (Providence, RI); and others. Her artistic process employs a hybrid arsenal of traditional mark-making methods and innovative digital tools. A new body of work, further developed at a Winter 2019 residency at MASS MoCA, combines artificial intelligence image algorithms with oil paint and pastels.