By Nancy Langston (NHC Fellow, 1996–97)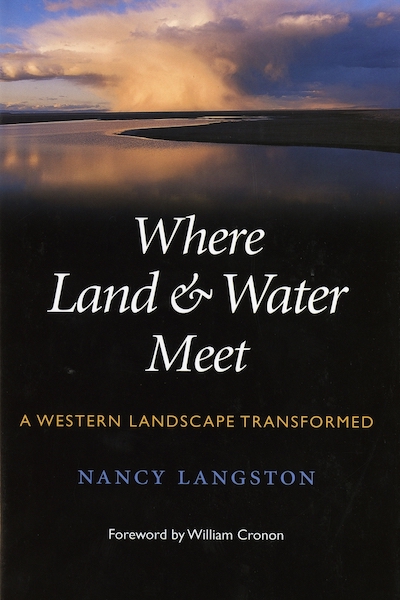 Seattle: University of Washington Press, 2003
From the publisher's description:
Water and land interrelate in surprising and ambiguous ways, and riparian zones, where land and water meet, have effects far outside their boundaries. Using the Malheur Basin in southeastern Oregon as a case study, this intriguing and nuanced book explores the ways people have envisioned boundaries between water and land, the ways they have altered these places, and the often unintended results.
The Malheur Basin, once home to the largest cattle empires in the world, experienced unintended widespread environmental degradation in the late nineteenth and early twentieth centuries. After establishment in 1908 of Malheur National Wildlife Refuge as a protected breeding ground for migratory birds, and its expansion in the 1930s and 1940s, the area experienced equally extreme intended modifications aimed at restoring riparian habitat. Refuge managers ditched wetlands, channelized rivers, applied Agent Orange and rotenone to waterways, killed beaver, and cut down willows. Where Land and Water Meet examines the reasoning behind and effects of these interventions, gleaning lessons from their successes and failures.
Although remote and specific, the Malheur Basin has myriad ecological and political connections to much larger places. This detailed look at one tangled history of riparian restoration shows how—through appreciation of the complexity of environmental and social influences on land use, and through effective handling of conflict—people can learn to practice a style of pragmatic adaptive resource management that avoids rigid adherence to single agendas and fosters improved relationships with the land.
Subjects
Environment and Nature
/
History
/
Ecology
/
Water
/
Local History
/
Waterways
/
Environmental History
/
Environmental Conservation
/
Harney Basin
/
---
Langston, Nancy (NHC Fellow, 1996–97). Where Land and Water Meet: A Western Landscape Transformed. Weyerhaeuser Environmental Books. Seattle: University of Washington Press, 2003.