Edited by Bill Schwarz (NHC Fellow, 2015–16), Stuart Hall, David Featherstone, Michael Rustin, and Sally Davison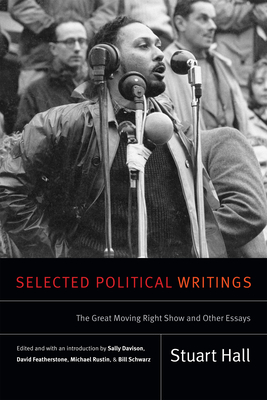 London: Lawrence and Wishart, 2017
From the publisher's description:
Selected Political Writings gathers Stuart Hall's best-known and most important essays that directly engage with political issues. Written between 1957 and 2011 and appearing in publications such as New Left Review and Marxism Today, these twenty essays span the whole of Hall's career, from his early involvement with the New Left, to his critique of Thatcherism, to his later focus on neoliberalism. Whether addressing economic decline and class struggle, the Cuban Missile Crisis, or the politics of empire, Hall's singular commentary and theorizations make this volume essential for anyone interested in the politics of the last sixty years.
Subjects
Political Science
/
Neoliberalism
/
Social Classes
/
Politics
/
Social Criticism
/
Cultural Studies
/
Colonialism
/
Stuart Hall
/
---
Schwarz, Bill (NHC Fellow, 2015–16), ed. Selected Political Writings: The Great Moving Right Show and Other Essays. Edited by Bill Schwarz, Stuart Hall, David Featherstone, Michael Rustin, and Sally Davison. Stuart Hall: Selected Writings. London: Lawrence and Wishart, 2017.