By Leon Fink (NHC Fellow, 1990–91)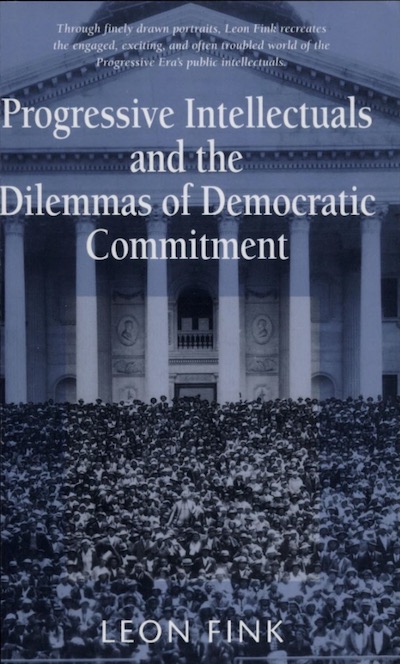 Cambridge, MA: Harvard University Press, 1997
From the publisher's description:
How to lead the people and be one of them? What's a democratic intellectual to do? This longstanding dilemma for the progressive intellectual, how to bridge the world of educated opinion and that of the working masses, is the focus of Leon Fink's penetrating book, the first social history of the progressive thinker caught in the middle of American political culture.
In a series of vivid portraits, Leon Fink investigates the means and methods of intellectual activists in the first part of the twentieth century—how they served, observed, and made their own history. In the stories of, among others, John R. Commons, Charles McCarthy, William English Walling, Anna Strunsky Walling, A. Philip Randolph, W. Jett Lauck, and Wil Lou Gray, he creates a panorama of reform of unusual power. Issues as broad as the cult of leadership and as specific as the Wisconsin school of labor history lead us into the heart of the dilemma of the progressive intellectual in our age.
The problem, as Fink describes it, is twofold: Could people prevail in a land of burgeoning capitalism and concentrated power? And should the people prevail? This book shows us Socialists and Progressives and, later, New Dealers grappling with these questions as they tried to redress the new inequities of their day—and as they confronted the immense frustrations of moving the masses. Fink's graphic depiction of intellectuals' labors in the face of capitalist democracy's challenges dramatizes a time in our past—and at the same time speaks eloquently to our own.
Subjects
History
/
Political Science
/
Democracy
/
Progressivism
/
Social History
/
American History
/
Intellectual History
/
---
Fink, Leon (NHC Fellow, 1990–91). Progressive Intellectuals and the Dilemmas of Democratic Commitment. Cambridge, MA: Harvard University Press, 1997.