Edited by Karen Halttunen (NHC Fellow, 1994–95) and Lewis Perry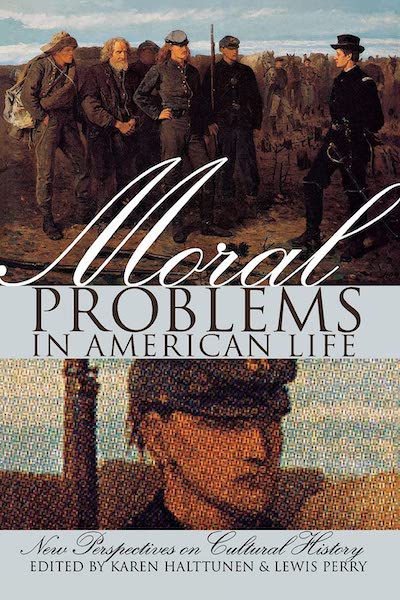 Ithaca, NY: Cornell University Press, 1998
From the publisher's description:
American history is filled with moments of grave moral doubt and institutional crisis, with conflicts over fundamental values, with ethical dilemmas and paradoxes. This volume surveys the moral landscape of the American past from slavery to the Vietnam War. Bringing together fourteen of the most original historians practicing today, the book illuminates a critical dimension of American history, even as it shows how historical study contributes to present-day debates about values and the moral life.These essays examine a wide range of questions that have engaged past generations of Americans and persist into the present—questions about the composition of a moral community and the case for civil disobedience, about the appropriate responses to injustices and inequalities, and about the ethical implications of artistic expression, school curricula, sexual behaviors, and popular media. Focusing on the impact of moral problems on everyday experience, the authors consider these questions in light of reform movements and religious practices; changing social institutions such as marriage, public schools, labor unions, and penitentiaries; and enduring moral forces from the Bible to the U.S. Constitution. Together their essays give historical context to a wide variety of American practices and beliefs and, in doing so, provide a new framework for understanding cultural life.
Subjects
History
/
Philosophy
/
American History
/
Cultural History
/
Morality
/
---
Halttunen, Karen (NHC Fellow, 1994–95), ed. Moral Problems in American Life: New Perspectives on Cultural History. Edited by Karen Halttunen and Lewis Perry. Ithaca, NY: Cornell University Press, 1998.