By Jean-Jacques Rousseau
Edited and translated by Philip Stewart (NHC Fellow, 1995–96) and Jean Vaché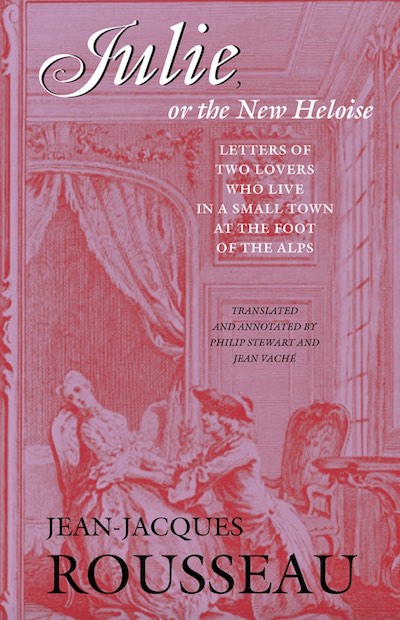 Hanover, NH: University Press of New England, 1997
From the publisher's description:
An elegant translation of one of the most popular novels of its time.
Rousseau's great epistolary novel, Julie, or the New Heloise, has been virtually unavailable in English since 1810. In it, Rousseau reconceptualized the relationship of the individual to the collective and articulated a new moral paradigm. The story follows the fates and smoldering passions of Julie d'Etange and St. Preux, a one-time lover who re-enters Julie's life at the invitation of her unsuspecting husband, M. de Wolmar.
The complex tones of this work made it a commercial success and a continental sensation when it first appeared in 1761, and its embodiment of Rousseau's system of thought, in which feelings and intellect are intertwined, redefined the function and form of fiction for decades. As the characters negotiate a complex maze of passion and virtue, their purity of soul and honest morality reveal, as Rousseau writes in his preface, "the subtleties of heart of which this work is full."
A comprehensive introduction and careful annotations make this novel accessible to contemporary readers, both as an embodiment of Rousseau's philosophy and as a portrayal of the tension and power inherent in domestic life.
Subjects
Fiction and Poetry
/
Literature
/
Epistolary Fiction
/
French Literature
/
Romanticism
/
---
Stewart, Philip (NHC Fellow, 1995–96), ed. and trans. Julie, or, the New Heloise: Letters of Two Lovers Who Live in a Small Town at the Foot of the Alps, by Jean-Jacques Rousseau. Edited and translated by Philip Stewart and Jean Vaché. The Collected Writings of Rousseau. Hanover, NH: University Press of New England, 1997.