page
Education Programs Survey December 2021
Teachers are looking for quality, free resources to use in their classrooms.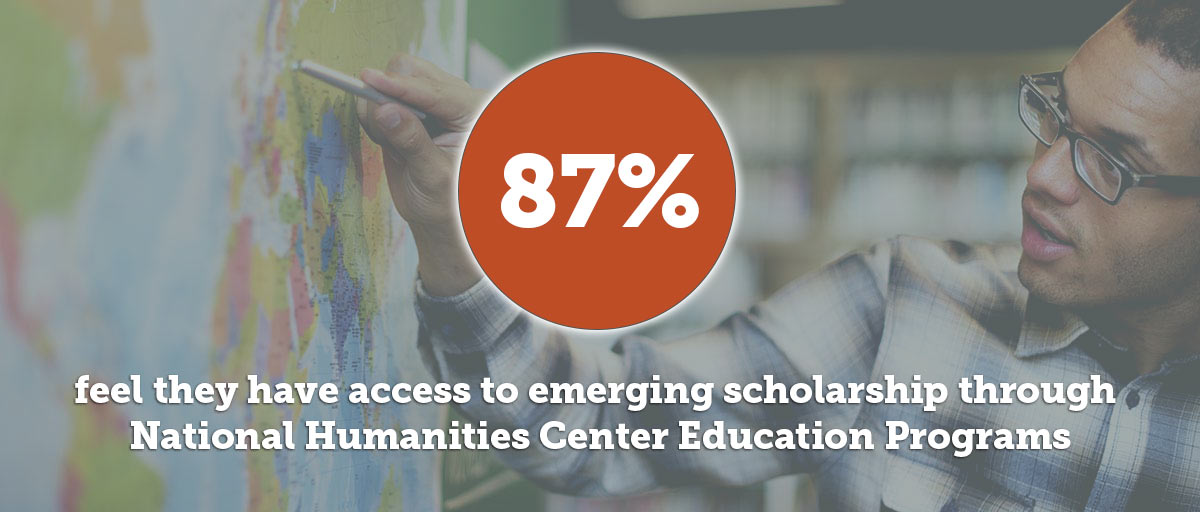 In December 2021, NHC Education Programs surveyed members of the Humanities in Class Digital Library (HICDL), including those who had taken Humanities in Class Online Courses, Humanities in Class Webinars, or were members of the Teacher Advisory Council (TAC). Here is some more information about our teachers:
50%
were new to NHC Education programming in the last 1–2 years.
The majority of our teachers have less than 15 years of experience and 77% of those participating in education programming have a master's or doctoral degree.
97%
believe that Humanities in Class Webinars are relevant to their teaching.
75% used information provided in a webinar in their teaching.
"Webinars provide a way to get a snapshot of up-to-date thinking from the academy [and] why certain topics are deemed important in the contemporary, mainstream American curriculum."
"As someone who walks in both the world of academia and public education, I often feel that they are too disconnected from each other and too quick to blame each other for problems in the education system. I think this is a wonderful organization that can help bridge the gap and help the two professional fields work together."
100%
believe that the Humanities in Class Online Courses are helpful professionally.
98% of the respondents noted that the online course workload was manageable, and respondents asked for more courses with a focus on global and Indigenous histories.
100%
believe that the resources on the Humanities in Class Digital Library created by the NHC or institutional partners were trustworthy.
HICDL users found the primary resources and lesson plans the most helpful.
"Using primary sources really helps [students] to think like an historian and learn how they can change the world."
"As a teacher who mostly works in a rural area, I often find myself disconnected from academics and other passionate educators. It is always beneficial to collaborate with professionals who share my passions and interests."
93%
said NHC Education programming had enhanced their curricular development.
75%
plan to participate in future NHC Education programming.
54%
said that NHC Education programming made them a better leader.