Twenty Educators Selected From Schools and Universities in Sixteen States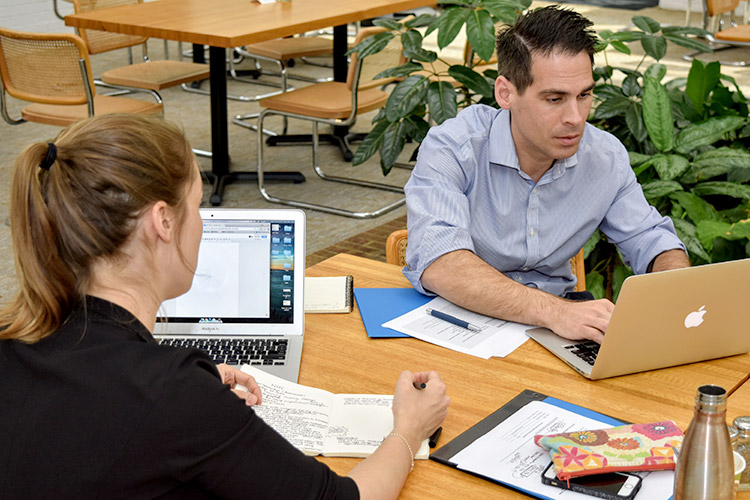 The National Humanities Center is pleased to announce the selection of twenty exceptional educators as members of its 2021–22 Teacher Advisory Council. These teachers, drawn from an array of teaching environments across the United States, will work with the Center's education program staff in piloting, evaluating, and promoting materials and professional development offerings.
This year's advisors bring a wide range of experience, from the elementary classroom to the collegiate level, allowing them to provide perspectives that will help the Center's education team design new content and programs to help teachers meet the needs of students in those settings.
The Teacher Advisory Council was formed to aid the National Humanities Center's ongoing effort to provide the most effective resources for teachers of the humanities. "Teachers from all over the country use the Center's materials in their classrooms and participate in our webinars and other professional development activities," said Andy Mink, vice president for education programs, "and our Teacher Advisors are instrumental in helping us provide classroom tools and preparation that are both content-rich and pedagogically useful."
Members of the Teacher Advisory Council will evaluate existing online offerings, pilot new materials with their students, and provide feedback as to their feasibility. They will also assist the Center's education team in raising awareness of the resources and platforms with their colleagues nationwide.
The 2021–22 council members are:

Michael Alfieri, Mount Saint Joseph High School, Baltimore, MD
Michael Alfieri is a drummer and educator originally from Long Island, New York. He is the Director of Instrumental Music at Mount Saint Joseph High School in Baltimore. Michael earned a bachelor's degree in music education from the Crane School of Music at SUNY Potsdam and a master's degree in jazz studies from the Conservatory of Music at SUNY Purchase. He has taught music in diverse classrooms in New York City, led and performed in many accomplished bands, and was featured as an education writer for Modern Drummer magazine.
Candace Bailey, North Carolina Central University, Durham, NC; NHC Fellow 2019–20
Candace Bailey is a musicologist at North Carolina Central University, where she has taught for more than twenty years. Her research interests are music in women's culture in the nineteenth-century United States and keyboard musicking in early modern Britain. She has held several fellowships, including one at the National Humanities Center in 2019–20. Her current projects include a digital database of American music sources of the nineteenth century, several papers on music and race in this period, and creating a new narrative for music history that sees it from an American perspective.
Josh Cabat, Roslyn High School, Roslyn, NY
Josh Cabat is the Chair of English for the Roslyn (NY) Public Schools where he teaches English and film. He also currently serves as an adjunct professor of English Education at SUNY Stony Brook. Josh recently completed a term on the Secondary Section Steering Committee of the National Council of Teachers of English (NCTE). He was a cofounder of both the North Shore and the NYC Student Shakespeare Festivals, and was the teaching artist for the Young Film Critics program at the Brooklyn Academy of Music.
Stacie Christensen, Horizon Elementary School, Boise, ID
Stacie Christensen, a twenty-year educator teaching fifth grade in Boise, Idaho, guides her students with an overarching theme of civil rights and the human experience. "Shine on!" is her oft repeated phrase to remind students that their stories count and that it's their turn to change the world. Christensen was recognized for her achievements with the Gilder Lehrman Institute's Idaho History Teacher of the Year award, was one of twelve finalists for National History Teacher of the Year; and has since joined Gilder Lehrman Institute as a Master Teacher Fellow.
Hashim Davis, Albemarle High School, Charlottesville, VA
A native of Brooklyn, New York, Hashim Davis currently is a social studies teacher at Albemarle High School in Charlottesville, Virginia. With degrees from Virginia Union University and Mary Washington University, he has worked extensively on Cultural Response Teaching (CRT) curriculum design projects for the Virginia Department of Education. He has served as a Fellow for several organizations that center around his interest in Holocaust and genocide studies, including the United States Holocaust Memorial Museum. Davis is an active Life Member with Alpha Phi Alpha Fraternity, Incorporated and loves jazz music.
Judi Freeman, Boston Latin School, Boston, MA
Since 2000, Judi Freeman has been Seevak Chair in History at Boston Latin School, the nation's oldest public school, teaching interdisciplinary courses in modern history, art history, and a capstone. Previously Freeman was a museum curator specializing in modern art for museums in Los Angeles, New York, Portland, and Washington, DC. Freeman received two Fulbright awards (to France and India) and a Fund for Teachers grant (to Rwanda and Bosnia), as well as fellowships with Reimagining Migration, the USC Shoah Foundation, the Auschwitz-Birkenau Museum, the United States Holocaust Museum, and the New York Times Teaching Project cohort. Her academic degrees are from Vassar (AB), Johns Hopkins (MA), Yale (MPhil/ABD), and Tufts (MAT).
Tisha Hooks, Hopkins School, New Haven, CT
Tisha Hooks teaches history at the Hopkins School in New Haven, Connecticut, where in partnership with her students she wrestles with questions that range from whether or not religion is a unifying force when building an empire to where and when does African-American history begin. A former book editor at Beacon Press, she earned her PhD in American Studies at Yale University. In the past she has served in a number of roles, including as co-chair of the Ad hoc Committee on Diversity for the Society for the History of Technology (SHOT) and as a member of the Yale 100 delegation to China.
Breann Johnston, Cutter Morning Star High School, Hot Springs, AR
Breann Johnston is Social Studies Department Chair and teaches civics, world history, and U.S. history at Cutter Morning Star High School in Hot Springs, Arkansas. She graduated from Henderson State University with a bachelor of science degree in middle school education and is currently working on a master's of arts in humanities degree through Pace University. In 2019, Johnston was named Teacher of the Year for her high school. The same year, she was also selected as a James Madison Fellow.
Kathy Keffeler, Douglas High School, Box Elder, SD
Kathy Keffeler is a certified K–12 language teacher in both the U.S. and Spain and has been teaching at the secondary level for over thirty-five years. She has also worked as a translator for Médecins Sans Frontieres, an SAT essay reader, an IB examiner, and a tour guide. She is on the advisory council for the American Council on the Teaching of Foreign Languages (ACTFL) and has served as her state's representative. She is a member of the South Dakota World Affairs Council, the Dakotah Territory International Visitors' Program, Rotary and several other groups.
Myla Liljemark, Seward Middle School, Seward, AK
Myla Liljemark is a middle school social studies teacher from Seward, Alaska. She is passionate about making social studies education meaningful to the lives of her students and draws from her experiences living, traveling, and teaching overseas to build lessons that help her students better understand the world. Liljemark is the 2019 NEA Foundation Global Fellow for Alaska, a BP Teacher of Excellence, and a National Geographic Certified Educator.
Jared Morris, Madison County Public Schools, Madison, VA
Jared Morris currently serves as the Curriculum Innovation Lead for Madison County Public Schools in Madison, Virginia where he has also worked as an instructional coach and sixth-grade social studies teacher. Morris received a BA in history from Lycoming College and an MA in social studies education from Teachers College of Columbia University. Morris was a consulting educator for the American Battle Monuments Commission's "Bringing the Great War Home" project, which involved fieldwork in France and England. This year, he was selected to serve as sub-committee chair for the Culturally Relevant and Inclusive Education Practices Advisory Committee for the Virginia Department of Education.

Justin Olmstead, University of Central Oklahoma, Edmond, OK
Justin Olmstead is associate professor of history at the University of Central Oklahoma. He is the author of The United States' Entry into the First World War: The Role of British and German Diplomacy and editor of Reconsidering Peace and Patriotism during the First World War and Britain in the Islamic World: Imperial and Post-Imperial Connections. His next book, Building NATO, 1945-1955: Churchill, Eisenhower, and the Anglo-American Alliance, is under contract with Lexington Books. He also serves as assistant editor for The Middle Ground Journal; is treasurer for the journal Britain and the World; and is a Senior Fellow at the Armed Services Institute in the Center for Military Life, Thomas University, and Visiting Fellow at the Centre for Trust, Peace & Social Relations, Coventry University, UK.
Elena Samkin, Pinecrest High School, Southern Pines, NC
Originally from Puerto Rico, Elena Samkin was raised in Chicago and Miami. As a high school student, she joined 100 other students from all over the U.S. and lived on an Israeli campus near Tel Aviv for a semester where she learned about Israeli history and the issues surrounding the Palestinian-Israeli conflicts. The experience was a life changer. She has taught high school history for fourteen years in Pinehurst, North Carolina. She is currently pursuing a masters degree in history from the University of North Carolina at Wilmington.
Amanda Lee Savage, University of Memphis, Memphis, TN
Amanda Lee Savage is an instructor and an academic advisor in the Department of History at the University of Memphis. She has delivered numerous talks around the state questioning and combatting indigenous peoples' invisibility in American culture and training activists and educators how to indigenize and decolonize their practices. In addition to her teaching and mentoring duties, Savage is the co-creator of the Tiger Food Pantry, a member of the Pride and Equity Alliance, and is the co-founder of Native RITES, a non-profit organization dedicated to advocating for indigenous peoples and decolonizing the MidSouth.
Erica Shaw, College Now, Concord, CA
Erica Shaw is a social studies and AVID teacher at College Now in the Mt. Diablo Unified School District (MDUSD) in Concord, California. With degrees from the University of California San Diego and the University of California, Davis, she has been an active leader in curriculum development in MDUSD since 2008. Her work prioritizes inquiry and exploration of history with strong community-based practice, including serving as curriculum liaison for Extollo International in Haiti.
Brian Sheehy, North Andover High School, North Andover, MA
Brian Sheehy is the History Department Coordinator at North Andover High School in North Andover, MA, where he teaches AP U.S. History, AP European History, Sports of the Past, and Sports in American Culture. He is the 2020 Organization of American Historians Teacher of the Year and Williams College Olmstead Secondary Teacher of the Year. Sheehy is also a sports historian who has traveled all over the country giving presentations at conferences, symposiums, historical societies, and museums. He has designed and created professional development for other teachers on hidden local histories and how to incorporate sports related themes and topics into traditional history classrooms.
Geoffrey Smith, St. Andrew's-Sewanee School, Sewanee, TN
Geoffrey Smith is dean of students at St. Andrew's-Sewanee School in Sewanee, Tennessee, where he is also co-chair of the humanities department. He teaches a place-based course in American Studies and electives on the Holocaust, research methods, and other topics. Smith is a past recipient of the Outstanding Educator Award from Humanities Tennessee and the Belz-Lipman Holocaust Educator Award from the Tennessee Holocaust Commission. Smith has advised the school's Ethics Bowl team to three state championships. Smith taught previously at All Saints' Academy in Winter Haven, Florida, and is a graduate of the University of the South.
John Terry, The Westminster Schools, Atlanta, GA
John Terry is an award-winning world history teacher at The Westminster Schools in Atlanta. He has written on topics ranging from modern nostalgia for the Middle Ages to the First World War in Slate and The Washington Post and has scholarly publications on early medieval monasticism and medieval history pedagogy. In addition to his work on the Teacher Advisory Council, he currently serves as co-chair of the Medieval Academy of America's K–12 Committee, which promotes education on the Global Middle Ages at all levels. He holds a PhD in medieval history from the University of Virginia.
Kate Van Haren, Pittsville Elementary School, Pittsville, WI
Kate Van Haren is a fourth- and fifth-grade social studies teacher. Through projects like creating podcasts or ebooks or classroom reenactment of historic paintings, Van Haren's students learn that histories around the world are full of relatable people and important events that can teach modern communities important lessons. Van Haren serves on numerous boards including the Wisconsin Council for the Social Studies and the National Council for the Social Studies Trade Book Committee. She has written curricula for several different organizations and has advocated for elementary social studies at different conferences at the local, state, and national level.
Kymberli Wregglesworth, Onaway Secondary School, Onaway, MI
Kymberli Wregglesworth has worked for over twenty years in a small, rural school in Michigan where she has had the opportunity to teach every core subject in social studies and a variety of elective courses. She is currently a member of the Steering Committee rewriting the Social Studies Teacher Preparation Standards for Michigan as well as serving as a regional representative for the Michigan Council for the Social Studies. She has also just completed her second appointment by the Michigan Governor's Office related to the Covid-19 pandemic and schools.

---
About the National Humanities Center
The National Humanities Center is the world's only independent institute dedicated exclusively to advanced study in all areas of the humanities. Governed by a distinguished Board of Trustees from academic, professional, and public life, the Center began operation in 1978 and offers programs to encourage excellence in scholarship, improve teaching, and increase public appreciation for, and engagement with, the humanities.
Since 1984 the National Humanities Center has included teacher professional development as a key part of its mission. In recent years, through the Internet, the Center's education resources have expanded exponentially, allowing teachers from across the United States to participate in live webinars with leading scholars, to freely download thousands of primary source materials ready-made for classroom use, and to access digital lessons and other tools that are ideally suited to teaching twenty-first-century skills.

Contact
Don Solomon
Director of Communications
919.406.0120