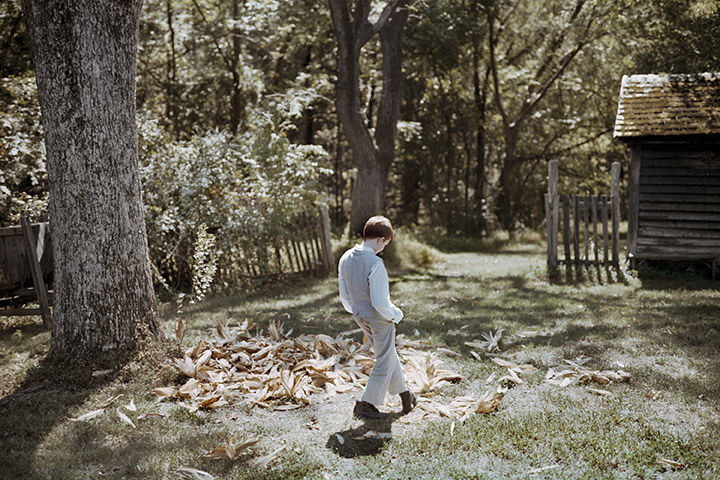 Featuring the work of artists Diego Camposeco, Aaron Canipe, Jing Niu, and Jina Valentine, "Melt with Ruth" offers a mix of two-dimensional works and experimental videos exploring notions of home, identity, geography, and sense of place in North Carolina.
The show takes its title from the lesser-quoted phrase that follows "Look homeward Angel" in John Milton's poem "Lycidas," which Asheville author Thomas Wolfe appropriated for his classic 1929 autobiographical novel Look Homeward, Angel: "Look homeward Angel now, and melt with ruth."
Diego Camposeco's single-take, point-of-view, two-hour video piece Mine Eyes Have Seen immerses the viewer in the experience of a muscadine grape harvest by Latino farmworkers in southeastern North Carolina.
Aaron Canipe's arresting photographs from his Plateau series locate beauty and pathos in the charged banality of North Carolina's everyday landscapes and built environments, those often overlooked, transitional spaces which surround our homes and permeate our communities.
Departing is filmmaker Jing Niu's autobiographical journey to understand her past and what it means to be an immigrant in the American South today. Born in China but raised in Durham, North Carolina, Niu describes this journey as an "epic poem about growing up in take-out restaurants in the South."
Jina Valentine, whose interdisciplinary practice is informed by traditional craft techniques and the intuitive strategies of American folk artists, shares recent works that employ handmade ink on handmade paper. Works in her two series highlight gerrymandered voting districts in the state and record an almanac of violence against young black men throughout the nation.
This exhibit is presented as part of North Carolina: The New American Heartland.