Edited by Luis R. Corteguera (NHC Fellow, 2001–02) and Marta V. Vicente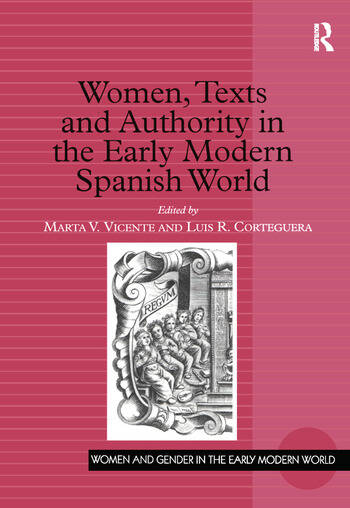 Farnham, UK: Ashgate, 2003
From the publisher's description:
This is the first essay collection to examine the relation between text and gender in Spain from a broad geographical, social and cultural perspective covering more than 300 years. The contributors examine women and the construction of gender thematically, dealing with the areas of politics, law, religion, sexuality, literature and economics, and in a variety of social categories, from Christians and Moriscas, queens and merchants, peasants and visionaries, heretics and madwomen. The essays cover different regions in the Spanish monarchy, including Andalusia, Aragon, Castile, Catalonia, Valencia and Spanish America, from the fifteenth century through to the eighteenth century. Women, Texts and Authority in Early Modern Spain focuses on two central themes: gender relations in the shaping of family and community life, and women's authority in spheres of power. The representation of women in a variety of texts such as poetry, court cases, or even account books illustrate the multifaceted world in which women lived, constantly choosing and negotiating their identities. The appeal of this collection is not limited to scholars of Spanish history and literature; it is deliberately designed to address the issue of how gender relations were constructed in the formation of modern society, and therefore will be of interest to scholars of women's and gender history generally. Because of the emphasis on how this construction occurs in texts, the collection will also be attractive to scholars interested in literary studies and/or print culture.
Subjects
History
/
Gender and Sexuality
/
Cultural History
/
Gender History
/
Women
/
Authority
/
Poetry
/
History
/
Literature
/
Spanish History
/
Literary Criticism
/
Andalucia
/
---
Corteguera, Luis R. (NHC Fellow, 2001–02), ed. Women, Texts, and Authority in the Early Modern Spanish World. Edited by Luis R. Corteguera and Marta V. Vicente. Farnham, UK: Ashgate, 2003.