By Edna G. Bay (NHC Fellow, 1993–94)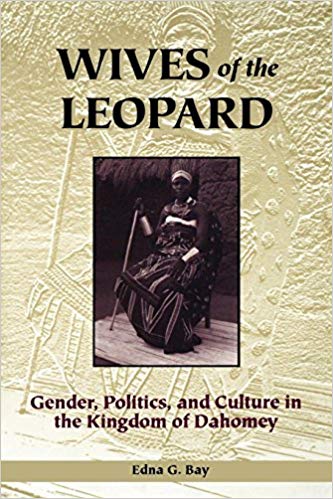 Charlottesville: University of Virginia Press, 1998
From the publisher's description:
Wives of the Leopard explores power and culture in a pre-colonial West African state whose army of women and practice of human sacrifice earned it notoriety in the racist imagination of late nineteenth-century Europe and America. Tracing two hundred years of the history of Dahomey up to the French colonial conquest in 1894, the book follows change in two central institutions. One was the monarchy, the coalitions of men and women who seized and wielded power in the name of the king. The second was the palace, a household of several thousand wives of the king who supported and managed state functions.
Looking at Dahomey against the backdrop of the Atlantic slave trade and the growth of European imperialism, Edan G. Bay reaches for a distinctly Dahomean perspective as she weaves together evidence drawn from travelers' memoirs and local oral accounts, from the religious practices of vodun, and from ethnographic studies of the twentieth century. Wives of the Leopard thoroughly integrates gender into the political analysis of state systems, effectively creating a social history of power. More broadly, it argues that women as a whole and men of the lower classes were gradually squeezed out of access to power as economic resources contracted with the decline of the slave trade in the nineteenth century. In these and other ways, the book provides an accessible portrait of Dahomey's complex and fascinating culture without exoticizing it.
Subjects
Gender and Sexuality
/
Political Science
/
Dahomey
/
French Imperialism
/
Transatlantic Slave Trade
/
Women
/
---
Bay, Edna G. (NHC Fellow, 1993–94). Wives of the Leopard: Gender, Politics, and Culture in the Kingdom of Dahomey. Charlottesville: University of Virginia Press, 1998.