By Edward H. Friedman (NHC Fellow, 1998–99)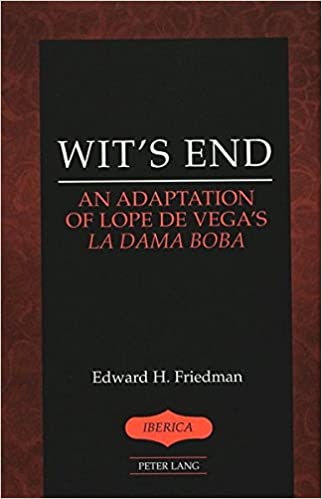 New York: Peter Lang, 2000
From the publisher's description:
Wit's End is a loose adaptation of La dama boba (The Lady Simpleton), a comedy by the Spanish playwright Lope de Vega. A contemporary of Shakespeare, Lope developed a dramatic model that became the reigning formula in Spain during the period now known as the Golden Age. Wit's End, like La dama boba, features two sisters – one mentally challenged and the other exceedingly bright – and two less-than-constant suitors. Love and ingenuity combine to produce a happy ending, engineered by the newly enlightened simpleton. Building on the ironies of gender politics, Wit's End presents the metamorphosis of the «slow» sister while allowing the intellectual sister to maintain her lofty aspirations. The volume contains the text of Wit's End, together with an introduction that focuses on the background, criticism, and adaptations of La dama boba.
Subjects
Literature
/
Fiction and Poetry
/
Literary Criticism
/
Spanish Literature
/
La Dama Boba
/
Lope de Vega
/
---
Friedman, Edward H. (NHC Fellow, 1998–99). Wit's End: An Adaptation of Lope De Vega's "La dama boba". Ibérica. New York: Peter Lang, 2000.