By John C. G. Röhl (NHC Fellow, 1997–98)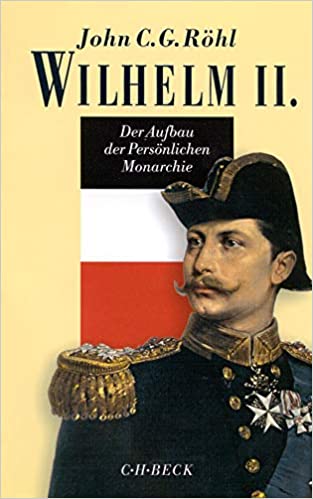 Munich: C.H. Beck, 2001
From the publisher's description:
The internationally renowned historian John Röhl presents here the continuation of his "... infinitely knowledgeable and readable" (Gustav Seibt, FAZ) biography of Wilhelm II. The new volume describes that decisive phase of rule known as the building of the personal monarchy. Characteristics of this government phase are the Bismarck crisis and the overthrow of the Chancellor, incompetence in foreign policy and the madness of the Caesars, a naval building program and the beginning of international isolation, but also internal family tyranny and a massive increase in basic democratic attitude. In his personal abundance of power - which historians have so far misunderstood - Wilhelm II was fatally powerful in history for Germany and Europe. John Röhl describes how, immediately after his accession to the throne, Wilhelm took up his foreign policy, unadulterated by any technical knowledge, the guiding principle of which was the narcissistic character of the young ruler. It is thus understandable that the conflict with the grand master of fine diplomatic calculations, Otto von Bismarck, could not fail to exist. The depiction of the escalation in the relationship between the two and the eruption in the form of the dismissal of the 'Iron Chancellor' are two of the many highpoints of this work. Wilhelm's government concept consisted of the To remove personalities of strong character from his environment and to replace them with weak men who, if possible, were completely uncritical towards him - the most ominous role was to be played by his intimate partner Philipp Eulenburg from then on. Wilhelm, however, felt himself to be entrusted with his high office by God and therefore believed himself called to rule and command in everything alone. John Röhl shows with impressive clarity how this excessive, downright pathological self-overestimation led to massive irritations in his environment from the first year of his rule and also formed the basic theme of his work in the particularly sensitive field of foreign policy.
Subjects
History
/
German History
/
Government
/
Monarchy
/
Monarchs
/
Kingship
/
German Emperor Wilhelm II
/
---
Röhl, John C. G. (NHC Fellow, 1997–98). Wilhelm II: Der Aufbau der Persönlichen Monarchie, 1888-1900. Munich: C.H. Beck, 2001.