Edited by Robert Beachy (NHC Fellow, 2006–07) and Ralf Roth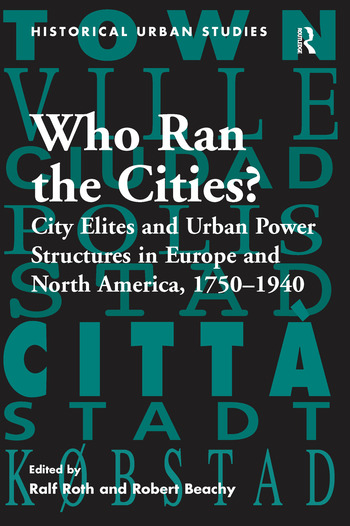 Farnham, UK: Ashgate, 2007
From the publisher's description:
The question of who actually ran cities in the eighteenth, nineteenth, and twentieth centuries has been increasingly debated in recent years. As well as trying to understand the distribution of political power and the rise of broad political participation, urban historians have questioned how and whether elites retained influence in municipal government. The essays in this collection provide a detailed examination of the relationship between urban elites and the exercise of 'power', bringing together economic, social and cultural history with the political history of power resources and decision-making. The volume challenges common perceptions of a monolithic urban elite by looking at specific case studies. Collectively these essays provide a more sophisticated view of the exercise of urban power as the negotiation of various elite groups defined by their economic, social, political or cultural privilege. To contribute to this complex account of the history of cities, elites, and their influence, the collection applies a range of methodological approaches to studying European and American cities, as well as the wider world.
Subjects
History
/
Elites
/
Political History
/
Urban History
/
---
Beachy, Robert (NHC Fellow, 2006–07), ed. Who Ran the Cities?: City Elites and Urban Power Structures in Europe and North America, 1750-1940. Edited by Robert Beachy and Ralf Roth. Historical Urban Studies. Farnham, UK: Ashgate, 2007.