Edited by William B. Taylor (NHC Fellow, 1990–91) and Franklin G. Y. Pease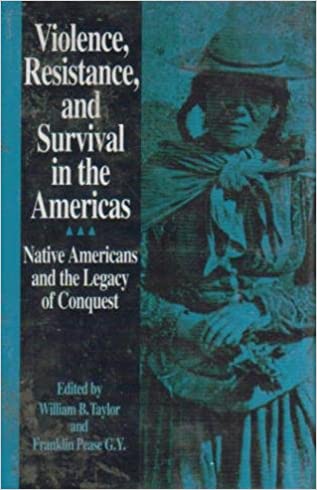 Washington, D.C.: Smithsonian Institution Press, 1994
From the publisher's description:
Despite Europeans' often violent and bloody attempts at conquest, Native Americans have survived five centuries of European occupation. This book documents the variety of roles they played in the westernization of the Americas, revealing a range of responses to European aggression from accommodation to liberation. The contributors - historians, literary scholars, sociologists, and anthropologists - present case studies of Native American resistance and survival, from sixteenth-century Spanish America, to late colonial Mexico, to postcolonial and contemporary times. The essays investigate topics such as narrative accounts of early colonization in Peru, the Seri uprisings of 1748 and 1750 in Sonora, the role of Native American women in modern society, and the Ghost Dance of 1890 and its heirs in the modern Wahpeton Dakota village of Saskatchewan. Several contributors invite readers to judge whether these essays merely replace old myths of defeated primitives with new ones. Exposing the ambiguities of domination and survival, this book challenges readers to recognize self-justification in representations of others.
Subjects
History
/
Indigenous Americans
/
Ethnohistory
/
Colonialism
/
South America
/
Central America
/
---
Taylor, William B. (NHC Fellow, 1990–91), ed. Violence, Resistance, and Survival in the Americas: Native Americans and the Legacy of Conquest. Edited by William B. Taylor and Franklin G. Y. Pease. Washington, D.C.: Smithsonian Institution Press, 1994.