Edited by Lydia H. Liu (NHC Fellow, 1997–98)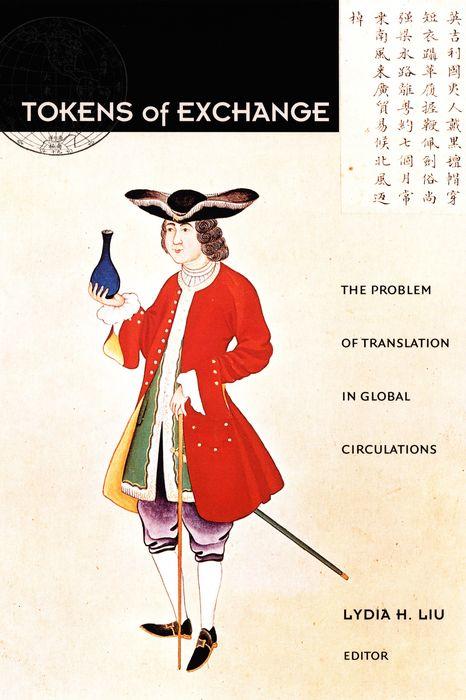 Durham, NC: Duke University Press, 1999
From the publisher's description:
The problem of translation has become increasingly central to critical reflections on modernity and its universalizing processes. Approaching translation as a symbolic and material exchange among peoples and civilizations—and not as a purely linguistic or literary matter, the essays in Tokens of Exchange focus on China and its interactions with the West to historicize an economy of translation. Rejecting the familiar regional approach to non-Western societies, contributors contend that "national histories" and "world history" must be read with absolute attention to the types of epistemological translatability that have been constructed among the various languages and cultures in modern times.
By studying the production and circulation of meaning as value in areas including history, religion, language, law, visual art, music, and pedagogy, essays consider exchanges between Jesuit and Protestant missionaries and the Chinese between the seventeenth and nineteenth centuries and focus on the interchanges occasioned by the spread of capitalism and imperialism. Concentrating on ideological reciprocity and nonreciprocity in science, medicine, and cultural pathologies, contributors also posit that such exchanges often lead to racialized and essentialized ideas about culture, sexuality, and nation. The collection turns to the role of language itself as a site of the universalization of knowledge in its contemplation of such processes as the invention of Basic English and the global teaching of the English language. By focusing on the moments wherein meaning-value is exchanged in the translation from one language to another, the essays highlight the circulation of the global in the local as they address the role played by historical translation in the universalizing processes of modernity and globalization.
The collection will engage students and scholars of global cultural processes, Chinese studies, world history, literary studies, history of science, and anthropology, as well as cultural and postcolonial studies.
Subjects
Literary Theory
/
Literature
/
History
/
Translation
/
Translation Studies
/
Language
/
Linguistics
/
Philology
/
International Relations
/
---
Liu, Lydia H. (NHC Fellow, 1997–98), ed. Tokens of Exchange: The Problem of Translation in Global Circulations. Post-Contemporary Interventions. Durham, NC: Duke University Press, 1999.