By Tom Regan (NHC Fellow, 1984–85)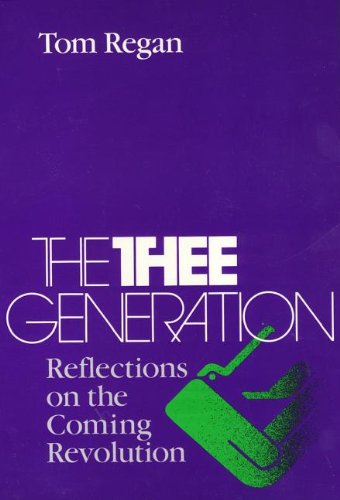 Philadelphia: Temple University Press, 1991
From the publisher's description:
The revolution examined in this collection of essays is a revolution of the human spirit. In this revolution, Tom Regan passionately contends that the expansive ethic of service is replacing the suffocating ethic of greed. Unlike previous generations, "The Thee Generation" asks, "What do I have to give?" rather than "What can I get to Keep?" Regan defines "Thee" as those to be served: the handicapped, the poor, the illiterate, the homeless, the starving and the abused, those newly born, and those soon to die. This generation is generous enough to include the animal kingdom, and even the earth itself, for the world of "The Thee Generation" is a place where a shared sense of community replaces the void of individual estrangement.
Subjects
Philosophy
/
Ethics
/
Morality
/
Humanism
/
---
Regan, Tom (NHC Fellow, 1984–85). The Thee Generation: Reflections on the Coming Revolution. Philadelphia: Temple University Press, 1991.