By Dan T. Carter (NHC Fellow, 1990–91)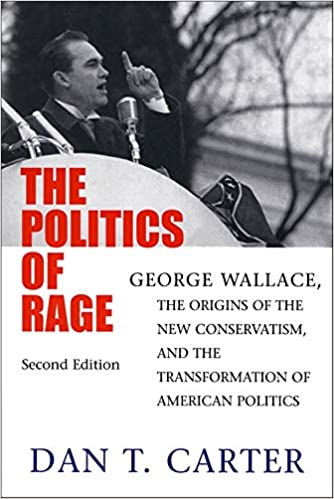 New York: Simon & Schuster, 1995
From the publisher's description:
Combining biography with regional and national history, Dan T. Carter chronicles the dramatic rise and fall of George Wallace, a populist who abandoned his ideals to become a national symbol of racism, and later begged for forgiveness. In The Politics of Rage, Carter argues persuasively that the four-time Alabama governor and four-time presidential candidate helped to establish the conservative political movement that put Ronald Reagan in the White House in 1980 and gave Newt Gingrich and the Republicans control of Congress in 1994. In this second edition, Carter updates Wallace's story with a look at the politician's death and the nation's reaction to it and gives a summary of his own sense of the legacy of "the most important loser in twentieth-century American politics."
Awards and Prizes
Robert F. Kennedy Book Award (1996)
Subjects
History
/
Politics
/
Political History
/
Conservatism
/
American Republican Party
/
Racism
/
George C. Wallace
/
---
Carter, Dan T. (NHC Fellow, 1990–91). The Politics of Rage: George Wallace, the Origins of the New Conservatism, and the Transformation of American Politics. New York: Simon & Schuster, 1995.