By Jonathan Sachs (NHC Fellow, 2014–15)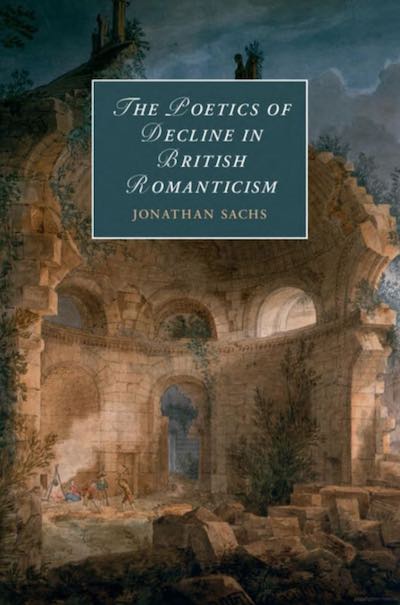 Cambridge, UK: Cambridge University Press, 2018
From the publisher's description:
Anxieties about decline were a prominent feature of British public discourse in the late eighteenth and early nineteenth century. These anxieties were borne out repeatedly in books and periodicals, pamphlets and poems. Tracing the reciprocal development of Romantic-era Britain's rapidly expanding literary and market cultures through the lens of decline, Jonathan Sachs offers a fresh way of understanding British Romanticism. The book focuses on three aspects of literary experience - questions of value, the fascination with ruins, and the representation of slow time - to explore how shifting conceptions of progress and change inform a post-enlightenment sense of cultural decline. Combining close readings of Romantic literary texts with an examination of works from political economy, historical writing, classical studies, and media history the book reveals for the first time how anxieties about decline impacted literary form and shaped Romantic debates about poetry and the meaning of literature.
Subjects
Literature
/
Literary Theory
/
Literary Criticism
/
British Literature
/
Romanticism
/
Cultural Decline
/
Poetry
/
---
Sachs, Jonathan (NHC Fellow, 2014–15). The Poetics of Decline in British Romanticism. Cambridge Studies in Romanticism. Cambridge, UK: Cambridge University Press, 2018.