By Robert S. C. Gordon (NHC Fellow, 2005–06)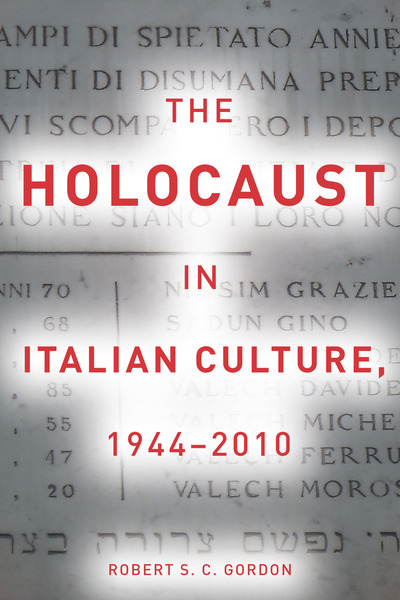 Stanford, CA: Stanford University Press, 2012
From the publisher's description:
The Holocaust in Italian Culture, 1944–2010 is the first major study of how postwar Italy confronted, or failed to confront, the Holocaust. Fascist Italy was the model for Nazi Germany, and Mussolini was Hitler's prime ally in the Second World War. But Italy also became a theater of war and a victim of Nazi persecution after 1943, as resistance, collaboration, and civil war raged. Many thousands of Italians—Jews and others—were deported to concentration camps throughout Europe. After the war, Italian culture produced a vast array of stories, images, and debate through which it came to terms with the Holocaust's difficult legacy. Gordon probes a rich range of cultural material as he paints a picture of this shared encounter with the darkest moment of twentieth-century history. His book explores aspects of Italian national identity and memory, offering a new model for analyzing the interactions between national and international images of the Holocaust.
Subjects
History
/
Collective Memory
/
The Holocaust
/
Italian History
/
National Identity
/
Cultural History
/
Adolf Hitler
/
---
Gordon, Robert S. C. (NHC Fellow, 2005–06). The Holocaust in Italian Culture, 1944-2010. Stanford, CA: Stanford University Press, 2012.