By Harriet Ritvo (Trustee; NHC Fellow, 1989–90; 2002–03)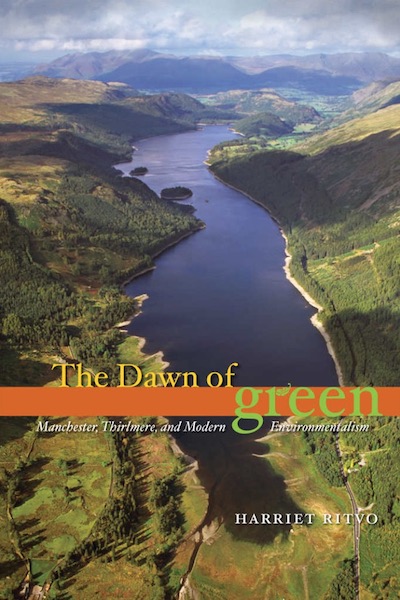 Chicago: The University of Chicago Press, 2009
From the publisher's description:
Located in the heart of England's Lake District, the placid waters of Thirlmere seem to be the embodiment of pastoral beauty. But under their calm surface lurks the legacy of a nineteenth-century conflict that pitted industrial progress against natural conservation—and helped launch the environmental movement as we know it. Purchased by the city of Manchester in the 1870s, Thirlmere was dammed and converted into a reservoir, its water piped one hundred miles south to the burgeoning industrial city and its workforce. This feat of civil engineering—and of natural resource diversion—inspired one of the first environmental struggles of modern times. The Dawn of Green re-creates the battle for Thirlmere and the clashes between conservationists who wished to preserve the lake and developers eager to supply the needs of a growing urban population. Bringing to vivid life the colorful and strong-minded characters who populated both sides of the debate, noted historian Harriet Ritvo revisits notions of the natural promulgated by romantic poets, recreationists, resource managers, and industrial developers to establish Thirlmere as the template for subsequent—and continuing—environmental struggles.
Subjects
History
/
Environment and Nature
/
Environmental History
/
Environmentalism
/
Water
/
Natural Resource Management
/
Environmental Conservation
/
Microhistory
/
Manchester, England,The Lake District
/
---
Ritvo, Harriet (Trustee; NHC Fellow, 1989–90; 2002–03). The Dawn of Green: Manchester, Thirlmere, and Modern Environmentalism. Chicago: The University of Chicago Press, 2009.