Edited by David Gilmartin (NHC Fellow, 2001–02; 2017–18), Pamela Price, and Arild Engelsen Ruud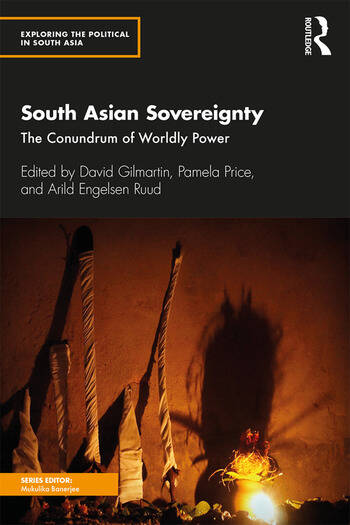 New York: Routledge, 2020
From the publisher's description:
This book brings ethnographies of everyday power and ritual into dialogue with intellectual studies of theology and political theory. It underscores the importance of academic collaboration between scholars of religion, anthropology, and history in uncovering the structures of thinking and action that make politics work. The volume weaves important discussions around sovereignty in modern South Asian history with debates elsewhere on the world map.
South Asia's colonial history – especially India's twentieth-century emergence as the world's largest democracy – has made the subcontinent a critical arena for thinking about how transformations and continuities in conceptions of sovereignty provide a vital frame for tracking shifts in political order. The chapters deal with themes such as sovereignty, kingship, democracy, governance, reason, people, nation, colonialism, rule of law, courts, autonomy, and authority, especially within the context of India, Bangladesh, and Pakistan.
The book will be of great interest to scholars and researchers in politics, ideology, religion, sociology, history, and political culture, as well as the informed reader interested in South Asian studies.
Subjects
Political Science
/
Religion
/
South Asian Religions
/
South Asian Politics
/
Postcolonialism
/
Political History
/
India
/
Pakistan
/
---
Gilmartin, David (NHC Fellow, 2001–02; 2017–18), ed. South Asian Sovereignty: The Conundrum of Worldly Power. Edited by David Gilmartin, Pamela Price, and Arild Engelsen Ruud. Exploring the Political in South Asia. New York: Routledge, 2020.