By Sarah Beckwith (NHC Fellow, 1994–95; 2012–13)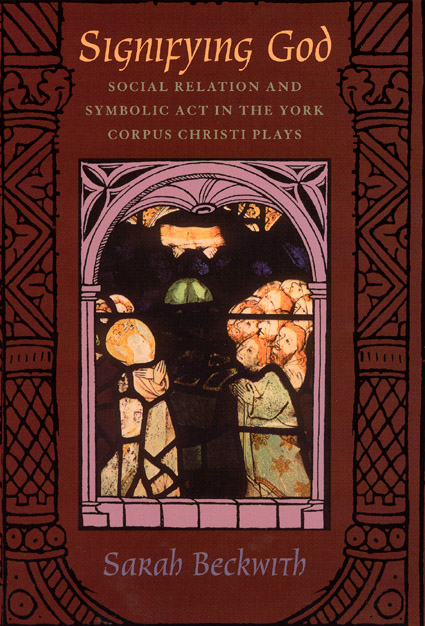 Chicago: The University of Chicago Press, 2001
From the publisher's description:
In Signifying God, Sarah Beckwith explores the most lavish, long-lasting, and complex form of collective theatrical enterprise in English history: the York Corpus Christi plays. First staged as early as 1376, the plays were performed annually until the late 1500s and involved as much as a tenth of the city in multiple performances at a dozen or more locations.
Introducing a radical new understanding of these plays as "sacramental theater," Beckwith shows how organizing the plays served as a political mechanism for regulating labor, and how theater and sacrament combined in them to do important theological work. She argues, for instance, that the theology of Corpus Christi in the resurrection plays can only be understood as a theatrical exploration of eucharistic absence and presence. Beckwith frames her study with discussions of twentieth-century manifestations of sacramental theater in Barry Unsworth's novel Morality Play and Denys Arcand's film Jesus of Montreal, and the connections between contemporary revivals of the York Corpus Christi plays and England's heritage culture.
Subjects
History
/
Religion
/
Literary Criticism
/
Christianity
/
Middle English Literature
/
Plays
/
Theater
/
York Corpus Christi Plays
/
---
Beckwith, Sarah (NHC Fellow, 1994–95; 2012–13). Signifying God: Social Relation and Symbolic Act in the York Corpus Christi Plays. Chicago: The University of Chicago Press, 2001.