By Adam Fairclough (NHC Fellow, 1994–95)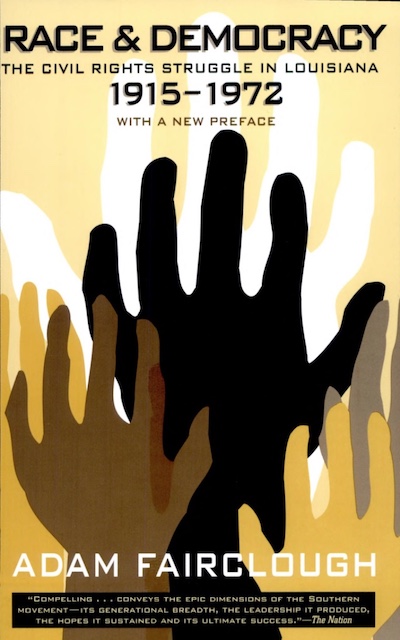 Athens: University of Georgia Press, 1995
From the publisher's description:
Hailed as one of the best treatments of the civil rights movement, Race and Democracy is also one of the most comprehensive and detailed studies of the movement at the state level. This far-reaching and dramatic narrative ranges in time from the founding of the New Orleans branch of the NAACP in 1915 to the beginning of Edwin Edwards's first term as governor in 1972. In his new preface Adam Fairclough brings the narrative up to date, demonstrating the persistence of racial inequalities and the continuing importance of race as a factor in politics. When Hurricane Katrina exposed the race issue in a new context, Fairclough argues, political leaders mishandled the disaster. A deep-seated culture of corruption, he concludes, compromises the ability of public officials to tackle intransigent problems of urban poverty and inadequate schools.
Fairclough takes readers to the grass roots of the movement as it was defiantly advanced and resisted in scores of places like New Orleans shipyards, the voter registrar's office in Opelousas, and the Little Union Baptist Church in Shreveport. He traces the social networks that sustained black activism, such as Masonic lodges and teachers' associations, and he also analyzes white responses to the movement as expressed through political factions, trade unions, business lobbies, the Catholic Church, White Citizens Councils, and the Ku Klux Klan.
Awards and Prizes
Lillian Smith Book Award (1995)
Subjects
History
/
African American History
/
American Civil Rights Movement
/
Democracy
/
Racial Inequality
/
---
Fairclough, Adam (NHC Fellow, 1994–95). Race & Democracy: The Civil Rights Struggle in Louisiana, 1915-1972. Athens: University of Georgia Press, 1995.