By Lawrence Nees (NHC Fellow, 2010–11)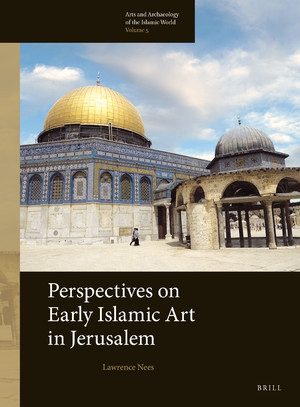 Leiden, Netherlands: Brill, 2016
From the publisher's description:
Through its material remains, Perspectives on Early Islamic Art in Jerusalem analyzes several overlooked aspects of the earliest decades of Islamic presence in Jerusalem, during the seventh century CE. Focusing on the Haram al-Sharif, also known as the Temple Mount, Lawrence Nees provides the first sustained study of the Dome of the Chain, a remarkable eleven-sided building standing beside the slightly later Dome of the Rock, and the first study of the meaning of the columns and column capitals with figures of eagles in the Dome of the Rock. He also provides a new interpretation of the earliest mosque in Jerusalem, the Haram as a whole, with the sacred Rock at its center.
Subjects
Religion
/
Art
/
Architecture
/
Art History
/
---
Nees, Lawrence (NHC Fellow, 2010–11). Perspectives on Early Islamic Art in Jerusalem. Arts and Archaeology of the Islamic world. Leiden, Netherlands: Brill, 2016.