By Barbara Weiden Boyd (NHC Fellow, 2014–15)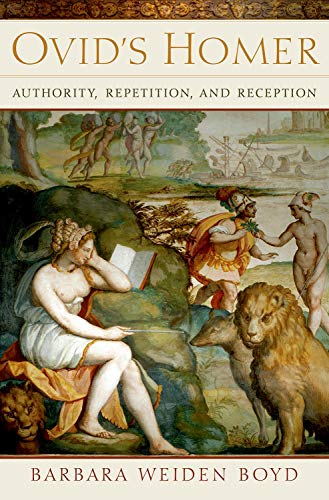 New York: Oxford University Press, 2018
From the publisher's description:
This book is the first extended modern study of the Latin poet Ovid's Homeric intertextuality. Ovid's relationship with the Homeric poems is shown to be neither occasional nor simply incidental; rather, careful and creative readings of the abundant evidence of Ovid's career-long engagement with the Iliad and the Odyssey demonstrate a coherent and profound pattern of animated intertextuality and transformative reception. Passages and poems from throughout Ovid's major works offer a vivid picture of the ways in which Ovid styles himself as a worthy successor to Homer. Central to the discussion throughout the book are two central tropes, articulated on both the thematic and metatexual levels: paternity and desire. For Ovid, the poetics of paternity is a way of reading the Homeric poems, as well as a way of positioning himself as a legitimate heir to Homer's poetic authority; and the poetics of desire, expressed especially strongly through repetition, allows Ovid to characterize himself as a devoted reader and editor of Homer, whose emulation of his model is grounded in an intimate appreciation for and knowledge of the text. Through a sustained reading sensitive to the dynamics of reception, this book puts forward a new perspective on Ovid, and offers a fertile model for the analysis of Latin poetry.
Subjects
Classics
/
Literature
/
Latin Literature
/
Ovid
/
Homer
/
---
Boyd, Barbara Weiden (NHC Fellow, 2014–15). Ovid's Homer: Authority, Repetition, and Reception. New York: Oxford University Press, 2018.