By Linda K. Kerber (NHC Fellow, 1990–91)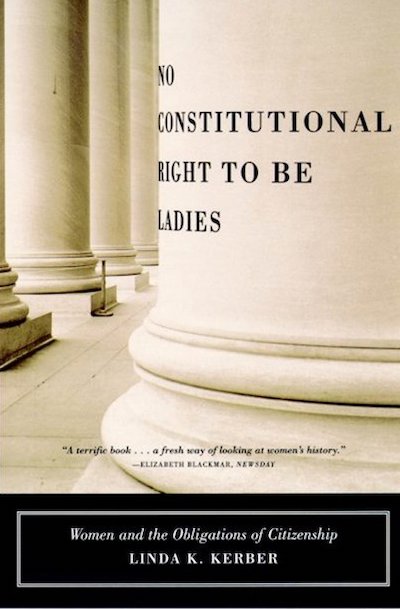 New York: Hill and Wang, 1998
From the publisher's description:
This pioneering study redefines women's history in the United States by focusing on civic obligations rather than rights. Looking closely at thirty telling cases from the pages of American legal history, Kerber's analysis reaches from the Revolution, when married women did not have the same obligation as their husbands to be "patriots," up to the present, when men and women, regardless of their marital status, still have different obligations to serve in the Armed Forces. An original and compelling consideration of American law and culture, No Constitutional Right to Be Ladies emphasizes the dangers of excluding women from other civic responsibilities as well, such as loyalty oaths and jury duty. Exploring the lives of the plaintiffs, the strategies of the lawyers, and the decisions of the courts, Kerber offers readers a convincing argument for equal treatment under the law.
Awards and Prizes
Littleton-Griswold Prize (1999)
Joan Kelly Memorial Prize (1999)
Subjects
History
/
Law
/
Gender and Sexuality
/
Citizenship
/
Women
/
Women's History
/
Legal History
/
American History
/
Constitutional Law
/
---
Kerber, Linda K. (NHC Fellow, 1990–91). No Constitutional Right to Be Ladies: Women and the Obligations of Citizenship. New York: Hill and Wang, 1998.