Edited by Elizabeth Anne Payne (NHC Fellow, 2008–09), Martha H. Swain, and Marjorie J. Spruill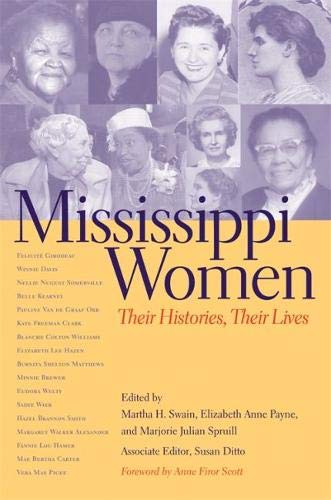 Athens: University of Georgia Press, 2010
From the publisher's description:
Volume 1 of Mississippi Women enriched our understanding of women's roles in the state's history through profiles of notable, though often neglected, individuals. Volume 2 explores the historical forces that have shaped women's lives in Mississippi. Covering an expanse of time from early European settlement through the course of the twentieth century, the essays in the second volume acknowledge the state's diverse cultural and physical landscapes as they discuss how issues of race, gender, and class affected women's lives in various private and public spheres.

Essays on the state's early history focus on such topics as Choctaw and Chickasaw women's influence on Native American society and tribal councils, daily life for free black women in slaveholding Natchez, and the efforts of white Protestant women to establish churches on the frontier. Several essays cast new light on legal concerns, including two on the pivotal Married Women's Property Act of 1839, while other essays examine the impact of the Civil War and Reconstruction on women's lives.

The boundaries of race and gender in Jim Crow Mississippi are explored through an essay on the women of the mixed-race Knight family, notably the educator, nurse, and missionary Anna Knight. Women's experiences with rural electrification, consumerism, civil rights activism, social and service clubs, and feminism are among the other twentieth-century topics addressed in the essays. Volume 2 concludes with an essay on storytelling and remembrance that centers on the family of Pulitzer Prize-winning columnist (and Mississippi native) William Raspberry.
Subjects
History
/
Gender and Sexuality
/
Women's History
/
American History
/
American South
/
Biography
/
Indigenous Americans
/
---
Payne, Elizabeth Anne (NHC Fellow, 2008–09), ed. Mississippi Women: Their Histories, Their Lives. Edited by Elizabeth Anne Payne, Martha H. Swain, and Marjorie J. Spruill. Southern Women: Their Lives and Times. Athens: University of Georgia Press, 2010.