By Fritz Ringer (NHC Fellow, 1993–94)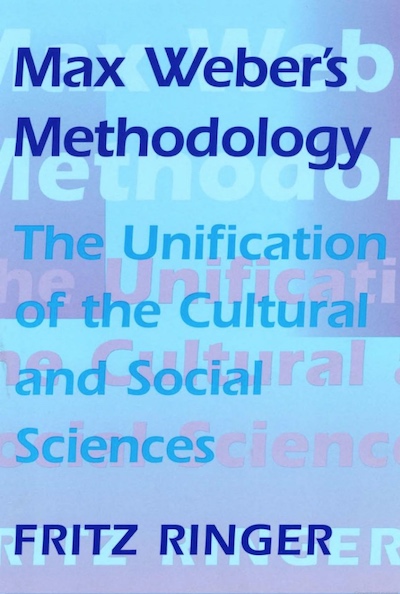 Cambridge, MA: Harvard University Press, 1997
From the publisher's description:
At a time when historical and cultural analyses are being subjected to all manner of ideological and disciplinary prodding and poking, the work of Max Weber, the brilliant social theorist and one of the most creative intellectual forces in the twentieth century, is especially relevant. In this significant study, Fritz Ringer offers a new approach to the work of Weber, interpreting his methodological writings in the context of the lively German intellectual debates of his day. According to Ringer, Weber was able to bridge the intellectual divide between humanistic interpretation and causal explanation in historical and cultural studies in a way that speaks directly to our own time, when methodological differences continue to impede fruitful cooperation between humanists and social scientists. In the place of the humanists' subjectivism and the social scientists' naturalism, Weber developed the flexible and realistic concepts of objective probability and adequate causation.
Grounding technical theories in specific examples, Ringer has written an essential text for all students of Weber and of social theory in the humanities and social sciences. Fully reconstructed, Max Weber's methodological position in fact anticipated the most fruitful directions in our own contemporary philosophies of the cultural and social sciences. Ringer's conceptualization of Weber's approach and achievement elucidates Weber's reconciliation of interpretive understanding and causal explanation and shows its relevance to intellectual life and culture in Weber's own time and in ours as well.
Subjects
Sociology
/
Humanities
/
Social Sciences
/
Methodology
/
Social Theory
/
Intellectualism
/
Max Weber
/
---
Ringer, Fritz (NHC Fellow, 1993–94). Max Weber's Methodology: The Unification of the Cultural and Social Sciences. Cambridge, MA: Harvard University Press, 1997.