By Edward Muir (NHC Fellow, 1992–93)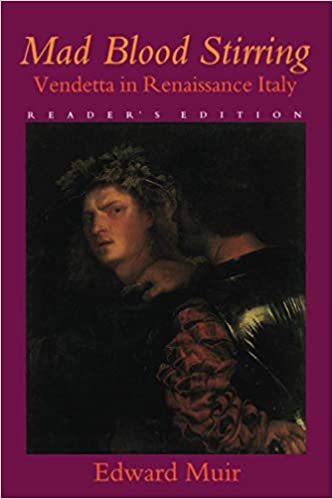 Baltimore: Johns Hopkins University Press, 1993
From the publisher's description:
Nobles were slaughtered and their castles looted or destroyed, bodies were dismembered and corpses fed to animals—the Udine carnival massacre of 1511 was the most extensive and damaging popular revolt in Renaissance Italy (and the basis for the story of Romeo and Juliet). Mad Blood Stirring is a gripping account and analysis of this event, as well as the social structures and historical conflicts preceding it and the subtle shifts in the mentality of revenge it introduced.
This new reader's edition offers students and general readers an abridged version of this classic work which shifts the focus from specialized scholarly analysis to the book's main theme: the role of vendetta in city and family politics. Uncovering the many connections between the carnival motifs, hunting practices, and vendetta rituals, Muir finds that the Udine massacre occurred because, at that point in Renaissance history, violent revenge and allegiance to factions provided the best alternative to failed political institutions. But the carnival massacre also marked a crossroads: the old mentality of vendetta was soon supplanted by the emerging sense that the direct expression of anger should be suppressed—to be replaced by duels.
Awards and Prizes
Helen and Howard R. Marraro Prize (1993)
Subjects
History
/
Italian Renaissance
/
Italian History
/
Middle Ages
/
Families
/
Politics
/
---
Muir, Edward (NHC Fellow, 1992–93). Mad Blood Stirring: Vendetta and Factions in Friuli During the Renaissance. Baltimore: Johns Hopkins University Press, 1993.