By Helena Rosenblatt (NHC Fellow, 2000–01)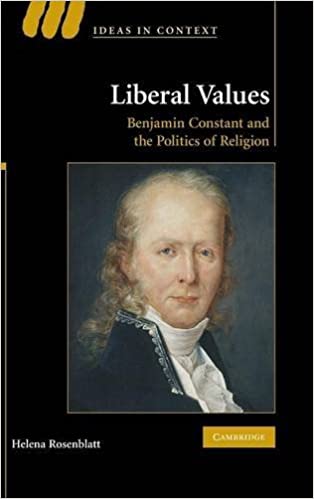 Cambridge, UK: Cambridge University Press, 2008
From the publisher's description:
Professor Rosenblatt presents a study of Benjamin Constant's intellectual development into a founding father of modern liberalism, through a careful analysis of his evolving views on religion. Constant's life spanned the Enlightenment, the French Revolution, Napoleon's rise and rule, and the Bourbon Restoration. Rosenblatt analyzes Constant's key role in many of this era's heated debates over the role of religion in politics, and in doing so, exposes and addresses many misconceptions that have long reigned about Constant and his period. In particular, Rosenblatt sheds light on Constant's major, yet much-neglected work, De La Religion. Given that the role of religion is, once again, center-stage in our political, philosophical and historical arenas, Liberal Values constitutes a major revision of our understanding of the origins of modern liberalism.
Subjects
Religion
/
History
/
Philosophy of Religion
/
History of Religion
/
Politics
/
Liberalism
/
Intellectual History
/
De la religion: considérée dans sa source, ses formes et ses développements
/
Benjamin Constant
/
---
Rosenblatt, Helena (NHC Fellow, 2000–01). Liberal Values: Benjamin Constant and the Politics of Religion. Ideas in Context. Cambridge, UK: Cambridge University Press, 2008.