Floyd, Samuel A., Jr. (Fellow, 1992-93; Fellow, 1996-97; Fellow, 2003-04), ed.
Chicago: Fitzroy Dearborn, 1999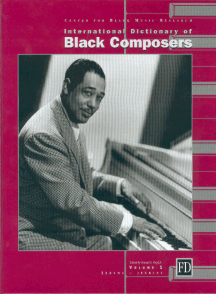 From the publisher's description:
Published in April 1999 by Fitzroy Dearborn Publishers, the 2-volume International Dictionary of Black Composers (IDBC) provides information about a cross-section of 186 composers of African heritage who reside in locations around the world, including North and South America, Europe, Africa, and the islands adjacent to and between any of these continents, including, for example, the islands of the Caribbean. The IDBC contains biographical sketches, works-lists bibliographies with discographical information, lists of publications by and about the composers, and critical essays about the composers and some of their most important works, giving users both facts and interpretive perspectives from scholars in the field. The IDBC embraces not only composers of music for the concert hall but also composers of popular and vernacular musical forms and styles.
---
Subjects: Music; African Americans; Composers;