By Mbaye Lo (NHC Fellow, 2021–22) and Carl W. Ernst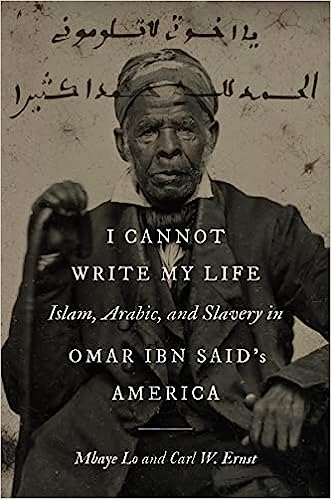 Chapel Hill: The University of North Carolina Press, 2023
From the publisher's description:
Omar ibn Said (1770–1863) was a Muslim scholar from West Africa who spent more than fifty years enslaved in the North Carolina household of James Owen, brother of Governor John Owen. In 1831 Omar composed a brief autobiography, the only known narrative written in Arabic by an enslaved person in North America, and he became famous for his Arabic writings. His enslavers also provided him with an Arabic Bible and claimed Omar as a convert to Christianity, prompting wonder and speculation among amateur scholars of Islam, white slave owners, and missionaries. But these self-proclaimed experts were unable or unwilling to understand Omar's writings, and his voice was suppressed for two centuries.
Mbaye Lo and Carl W. Ernst here weave fresh and accurate translations of Omar's eighteen surviving writings, for the first time identifying his quotations from Islamic theological texts, correcting many distortions, and providing the fullest possible account of his life and significance. Placing Omar at the center of a broader network of the era's literary and religious thought, Lo and Ernst restore Omar's voice, his sophisticated engagement with Islamic and Christian theologies, his Arabic skills, and his extraordinary efforts to express himself and exert agency despite his enslavement.
Subjects
History
/
Religion
/
Islamic History
/
Muslims
/
African American Studies
/
Enslaved Persons
/
Omar ibn Said
/
---
Lo, Mbaye (NHC Fellow, 2021–22). I Cannot Write My Life: Islam, Arabic, and Slavery in Omar ibn Said's America. By Mbaye Lo and Carl W. Ernst. Islamic Civilization and Muslim Networks. Chapel Hill: The University of North Carolina Press, 2023.