Edited by Maria Georgopoulou (NHC Fellow, 2010–11) and Irini Solomonidi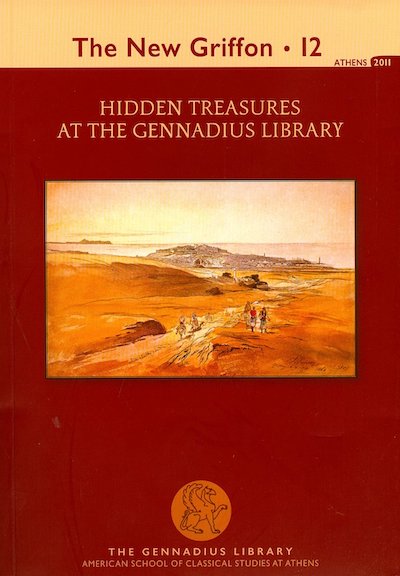 Athens, Greece: American School of Classical Studies at Athens, 2010
From the publisher's description:
The New Griffon volume 12 seeks to highlight several discoveries in a variety of areas and time periods: Father Konstantinos Terzopoulos explores 16 manuscripts of Byzantine chant; Leonora Navari presents the published works of Cardinal Bessarion, one of the heroes of Joannes Gennadius because of his active role in promoting the study of Hellenism in Italy; Cristina Pallini dissects an early hand-drawn map of Smyrna; Massimo Pinto considers the works of the 19th-century forger Constantinos Simonidis, a complete set of which was eagerly sought by Gennadius; Stephen Duckworth follows Edward Lear's wanderings on Crete through a careful study of his watercolors; American School Director Jack Davis analyzes topographical drawings connected with the presence of the French in the Peloponnesus in the early 19th century; Aliki Asvesta presents a wealth of information from the archive of cartographer Barbié du Bocage; Maria-Christina Chatziioannou explores the personal archive of Joannes Gennadius to paint a portrait of the Gennadeion's founder in the context of British society; and Eleftheria Daleziou examines the archives of Greek politician Ion Dragoumis, focusing on his exile on Corsica in the early 20th century. The volume is not all-inclusive, as the unique holdings of the Gennadeion could not possibly fit within the pages of a single issue of a journal. Our hope is that readers will be tempted to browse the Library's catalogue in person or online (www.gennadius.gr) in order to find their very own hidden treasures.
Subjects
History
/
Antiquities
/
Archives
/
Material Culture
/
Manuscripts
/
Maps
/
Museum Catalogs
/
---
Georgopoulou, Maria (NHC Fellow, 2010–11), ed. Hidden Treasures at the Gennadius Library. Edited by Maria Georgopoulou and Irini Solomonidi. New Griffon. Athens, Greece: American School of Classical Studies at Athens, 2010.