By John Monfasani (NHC Fellow, 2011–12)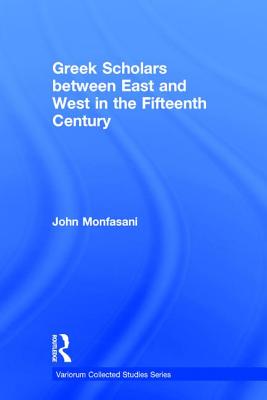 Farnham, UK: Ashgate, 2015
From the publisher's description:
Although the immense importance for the Renaissance of Greek émigrés to fifteenth-century Italy has long been recognized, much basic research on the phenomenon remains to be done. This new volume by John Monfasani gathers together fourteen studies filling in some of the gaps in our knowledge. The philosophers George Gemistus Pletho and George Amiroutzes, the great churchman Cardinal Bessarion, and the famous humanists George of Trebizond and Theodore Gaza are the subjects of some of the articles. Other articles treat the émigrés as a group within the wider frame of contemporary issues, such as humanism, the theological debate between the Orthodox and Roman Catholics, and the process of translating Greek texts into Latin. Furthermore, some notable Latin figures also enter into several of the articles in a detailed way, specifically, Nicholas of Cusa, Niccolò Perotti, and Pietro Balbi.
Subjects
History
/
Classics
/
Ancient Greek Philosophy
/
Italian Renaissance
/
Theology
/
Humanism
/
Translation
/
Middle Ages
/
---
Monfasani, John (NHC Fellow, 2011–12). Greek Scholars Between East and West in the Fifteenth Century. Variorum Collected Studies Series. Farnham, UK: Ashgate, 2015.