By Monika Trümper (NHC Fellow, 2008–09)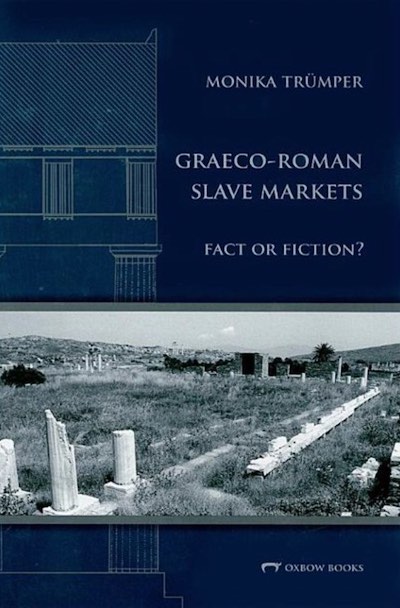 Oxford, UK: Oxbow Books, 2009
From the publisher's description:
This book critically examines the existence and identification of purpose-built slave markets in the Graeco-Roman world from a cross-cultural perspective. It investigates whether certain ancient monuments were designed specifically for use as slave markets and whether they required special equipment and safety precautions, allowing them to be clearly distinguished from other nonspecific commercial buildings and marketplaces of the Graeco-Roman world. First, selected parallels, namely slave markets in Istanbul, Marrakesh, Cairo, Havana, Charleston, and New Orleans, are analyzed in order to: assess the possible range of locations for the sale of slaves in slave-holding cultures better known than their ancient equivalents; answer the question of whether any of these cultures constructed clearly identifiable purpose-built slave markets on a regular basis, that is, whether the slave market was ever a firmly established building type; evaluate what can be gained from such a cross-cultural approach to the study of ancient slave markets. This is followed by a brief discussion of ancient written sources on slave markets, focusing on what the texts reveal about the existence, design, and requirements of ancient slave markets. A major part of this book is dedicated to a critical reexamination of all eight ancient buildings that have been identified as slave markets so far: Delos, so-called Agora of the Italians; Pompeii, Building of Eumachia; Rome, Crypta Balbi; Ostia, Tempio Rotondo; Herculaneum, so-called Basilica; Leptis Magna, so-called Chalcidicum/Building of Iddibal Cadapha Aemilius; Ephesus, so-called Sarapeum; Magnesia-on-Maeander, so-called Prytaneion. The conclusion includes a short comparison of modern and alleged ancient slave markets and finally answers the question of whether, to date, ancient slave markets are an archaeological fact or fiction.
Subjects
History
/
Archaeology
/
Classics
/
Slave Trade
/
Slavery
/
Ancient Greece
/
Ancient Rome
/
Italy
/
---
Trümper, Monika (NHC Fellow, 2008–09). Graeco-Roman Slave Markets: Fact or Fiction?. Oxford, UK: Oxbow Books, 2009.