Edited by J. Paul Hunter (NHC Fellow, 1985–86; 1995–96)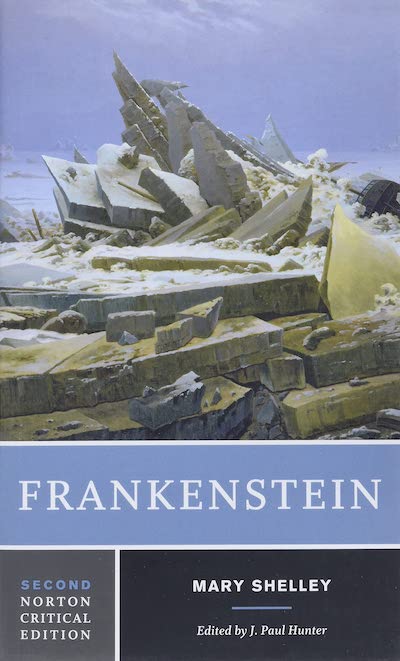 New York: W. W. Norton & Company, 1996
From the publisher's description:
Almost two centuries after its publication, Frankenstein remains an indisputably classic text and Mary Shelley's finest work.

This extensively revised Norton Critical Edition includes new texts and illustrative materials that convey the enduring global conversation about Frankenstein and its author. The text is that of the 1818 first edition, published in three volumes by Lackington, Hughes, Harding, Mavor, and Jones. It is accompanied by an expansive new preface, explanatory annotations, a map of Geneva and its environs, and seven illustrations, five of them new to the Second Edition.

Context is provided in three supporting sections: "Circumstance, Influence, Composition, Revision," "Reception, Impact, Adaptation," and "Sources, Influences, Analogues." Among the Second Edition's new inclusions are historical-cultural studies by Susan Tyler Hitchcock, William St. Clair, and Elizabeth Young; Chris Baldrick on the novel's reception; and David Pirie on the novel's many film adaptations. Related excerpts from the Bible and from John Milton's Paradise Lost are now included, as is Charles Lamb's poem "The Old Familiar Faces."

"Criticism" collects sixteen major interpretations of Frankenstein, nine of them new to the Second Edition. The new contributors are Peter Brooks, Bette London, Garrett Stewart, James. A. W. Heffernan, Patrick Brantlinger, Jonathan Bate, Anne Mellor, Jane Goodall, and Christa Knellwolf.
Subjects
Fiction and Poetry
/
Literary Criticism
/
Gothic Fiction
/
Romanticism
/
Novels
/
English Literature
/
---
Hunter, J. Paul (NHC Fellow, 1985–86; 1995–96), ed. Frankenstein: The 1818 Text, Contexts, Nineteenth-Century Responses, Modern Criticism. Norton Critical Edition. New York: W. W. Norton & Company, 1996.