Edited by Pavlos Kontos (NHC Fellow, 2017–18)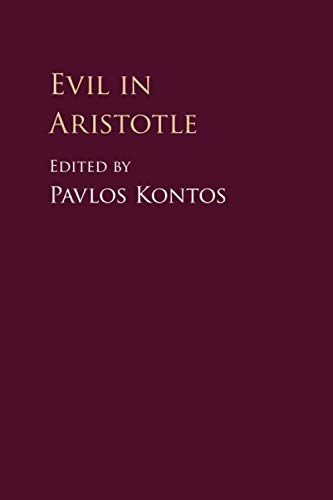 Cambridge, UK: Cambridge University Press, 2017
From the publisher's description:
Aristotle's notion of evil is highly elaborate and attractive, yet has been largely overlooked by philosophers. While most recent studies of evil focus on modern understandings of the concept, this volume shows that Aristotle's theory is an invaluable resource for our contemporary understanding of it. Twelve leading scholars reconstruct the account of evil latent in Aristotle's metaphysics, biology, psychology, ethics, and politics, and detect Aristotelian patterns of thought that operate at certain landmark moments in the history of philosophy from ancient thought to modern day debates. The book pays particular attention to Aristotle's understanding of 'radical evil', an important and much disputed topic. Original and systematic, this study is the first to provide a full exploration of evil in Aristotle's work, shedding light on its content, potential, and influence. The volume will appeal to scholars of ancient Greek philosophy as well as to moral philosophers and to historians of philosophy.
Subjects
Philosophy
/
Ancient Greek Philosophy
/
Evil
/
Philosophers
/
Morality
/
Intellectual History
/
Aristotle
/
---
Kontos, Pavlos (NHC Fellow, 2017–18), ed. Evil in Aristotle. Cambridge, UK: Cambridge University Press, 2017.