By Paul Strohm (NHC Fellow, 1996–97)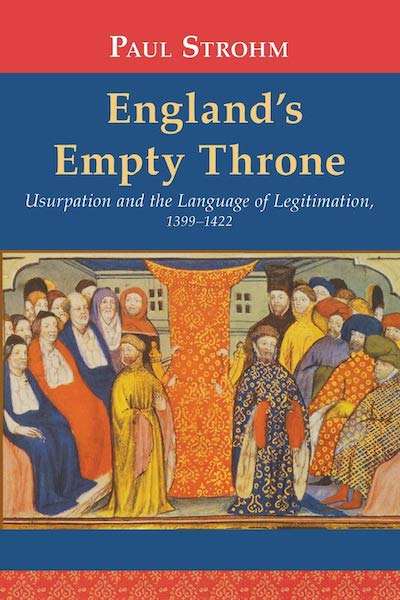 New Haven, CT: Yale University Press, 1998
From the publisher's description:
After the dethronement and subsequent murder of Richard II, the usurping Lancastrian dynasty faced an exceptional challenge. Interrupting a long period of Plantagenet rule, Henry IV and Henry V needed not only to establish physical possession of the English throne, but to occupy it symbolically as well. In this boldly revisionary book, Paul Strohm provides a new account of the Lancastrian revolution and its aftermath. Integrating techniques of literary and historical analysis, he explores the new dynasty`s quest for legitimacy and the importance of symbolic activity to the making of kingship.

Strohm reveals the Lancastrian monarchs as masters of outward display, persuasively "performing" their kingship in a variety of novel ceremonies. Henry IV is crowned with a newly discovered coronation oil. The murdered Richard II is elaborately reburied. Opinion is courted and deceived with invented chronicles, false prophecies, and bogus genealogies. Opponents of the new regime are subject to new varieties of trial and punishment. Far-reaching Lancastrian experiments in domination include the proscription of prophecy, the enlistment of poetry, the use of spies and hired informers, and, most ambitiously, the redefinition of treason to cover not only overt deeds but also things said and even thought. Strohm`s account of the Lancastrian quest for legitimacy and the uses of symbolic power illuminates—indeed recasts—our understanding of a period of unprecedented political upheaval.
Subjects
History
/
Political Science
/
Lollardy
/
Monarchs
/
Kingship
/
English History
/
Monarchy
/
Richard II of England
/
Henry IV of England
/
Henry V of England
/
---
Strohm, Paul (NHC Fellow, 1996–97). England's Empty Throne: Usurpation and the Language of Legitimation, 1399-1422. New Haven, CT: Yale University Press, 1998.