By Erasmus
Edited by Nelson H. Minnich (NHC Fellow, 2004–05)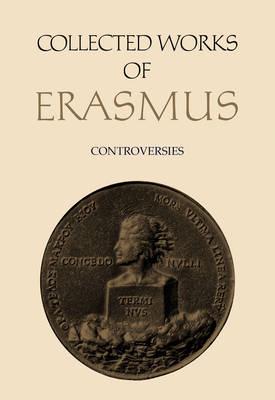 Toronto: University of Toronto Press, 2005
From the publisher's description:
This new volume of the CWE presents three of Erasmus' polemic works against Alberto Pio, Prince of Carpi. A leading diplomat of the period, patron of artists and humanists, and conservative Catholic, Pio continually angered Erasmus by criticizing him for his denunciations of church practices and officials, and by accusing him of supporting Luther and holding dangerous opinions. The texts are lucid, passionate, and even vitriolic at times.
The introduction by Nelson H. Minnich provides a biography of Pio, an overview of the controversy and related texts, and a bibliographical conspectus of source-texts. The translation is by Daniel J. Sheerin. The annotation by Minnich and Sheerin is wide-ranging and informative, answering questions posed by the text and placing the reader firmly in the sixteenth-century context of the dispute.
This is the first English translation of the Alberto Pio controversies. In the CWE series it follows on volumes 71-83, which contain Erasmus' controversies with other critics on theological, political, social, philological, and educational matters.
Subjects
Religion
/
Literature
/
History
/
Renaissance Period
/
Theology
/
Polemics
/
Humanism
/
Speeches
/
Desiderius Erasmus
/
Alberto Pio III
/
---
Minnich, Nelson H. (NHC Fellow, 2004–05), ed. Controversies. Vol. 14, Responsio ad epistolam paraeneticam Alberti Pii, Apologia adversus rhapsodias Alberti Pii, Brevissima scholia, by Erasmus. Edited by Nelson H. Minnich. Collected Works of Erasmus. Toronto: University of Toronto Press, 2005.