Edited by David Strand (NHC Fellow, 1995–96), Sherman Cochran (NHC Fellow, 2002–03), and Wen-Hsin Yeh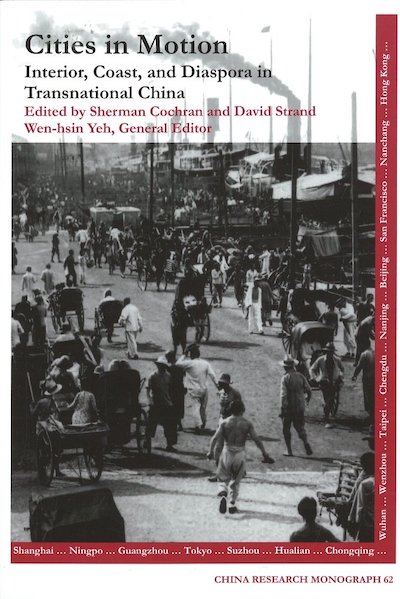 Berkeley: Institute of East Asian Studies, University of California, 2007
From the publisher's description:
This volume offers a fresh perspective on how Chinese cities were transformed or "Westernized" in the late nineteenth and twentieth centuries and how Asian and Western cities received Chinese influences dispatched through the media of commerce and migration. Part 1 looks at organizing human life; part 2 at movement and networking; part 3 at importing the modern city; and part 4 at exporting the Chinese city.
Subjects
History
/
Chinese History
/
Diaspora
/
Cities
/
Urban History
/
Urbanization
/
Migration
/
Transnationalism
/
---
Strand, David (NHC Fellow, 1995–96), and Cochran, Sherman (NHC Fellow, 2002–03), eds. Cities in Motion: Interior, Coast, and Diaspora in Transnational China. Edited by David Strand, Sherman Cochran, and Wen-Hsin Yeh. China Research Monograph. Berkeley: Institute of East Asian Studies, University of California, 2007.