By Eliza Richards (NHC Fellow, 2010–11)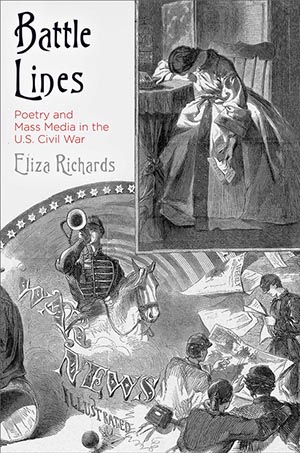 Philadelphia: University of Pennsylvania Press, 2019
From the publisher's description:
During the U.S. Civil War, a combination of innovative technologies and catastrophic events stimulated the development of news media into a central cultural force. Reacting to the dramatic increases in news reportage and circulation, poets responded to an urgent need to make their work immediately relevant to current events. As poetry's compressed forms traveled more quickly and easily than stories, novels, or essays through ephemeral print media, it moved alongside and engaged with news reports, often taking on the task of imagining the mental states of readers on receiving accounts from the war front. Newspaper and magazine poetry had long editorialized on political happenings—Indian wars, slavery and abolition, prison reform, women's rights—but the unprecedented scope of what has been called the first modern war, and the centrality of the issues involved for national futures, generated a powerful sense of single-mindedness among readers and writers that altered the terms of poetic expression.
In Battle Lines, Eliza Richards charts the transformation of Civil War poetry, arguing that it was fueled by a symbiotic relationship between the development of mass media networks and modern warfare. Focusing primarily on the North, Richards explores how poets working in this new environment mediated events via received literary traditions. Collectively and with a remarkable consistency, poems pulled out key features of events and drew on common tropes and practices to mythologize, commemorate, and ponder the consequences of distant battles. The lines of communication reached outward through newspapers and magazines to writers such as Dickinson, Whitman, and Melville, who drew their inspiration from their peers' poetic practices and reconfigured them in ways that bear the traces of their engagements.
Subjects
Literature
/
Literary Criticism
/
Poetry
/
Mass Media
/
American Civil War
/
American Literature
/
War
/
---
Richards, Eliza (NHC Fellow, 2010–11). Battle Lines: Poetry and Mass Media in the U.S. Civil War. Philadelphia: University of Pennsylvania Press, 2019.