By David Strand (NHC Fellow, 1995–96)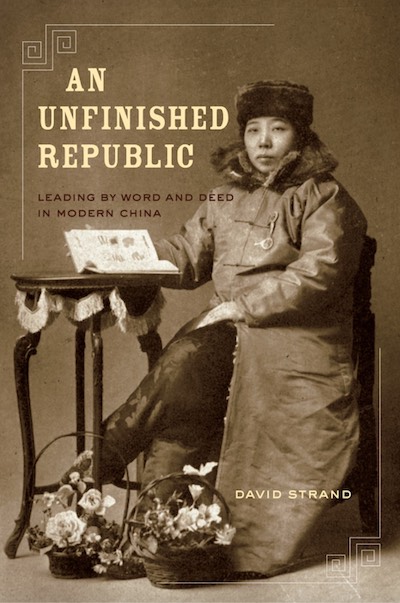 Berkeley: University of California Press, 2010
From the publisher's description:
In this cogent and insightful reading of China's twentieth-century political culture, David Strand argues that the Chinese Revolution of 1911 engendered a new political life—one that began to free men and women from the inequality and hierarchy that formed the spine of China's social and cultural order. Chinese citizens confronted their leaders and each other face-to-face in a stance familiar to republics worldwide. This shift in political posture was accompanied by considerable trepidation as well as excitement. Profiling three prominent political actors of the time—suffragist Tang Qunying, diplomat Lu Zhengxiang, and revolutionary Sun Yatsen—Strand demonstrates how a sea change in political performance left leaders dependent on popular support and citizens enmeshed in a political process productive of both authority and dissent.
Subjects
History
/
Political Science
/
Chinese History
/
Xinhai Revolution
/
Republic of China
/
Activists
/
Political History
/
Leadership
/
Zhengxiang Lu
/
Qunying Tang
/
Yat-sen Sun
/
---
Strand, David (NHC Fellow, 1995–96). An Unfinished Republic: Leading by Word and Deed in Modern China. Berkeley: University of California Press, 2010.