By Grace Elizabeth Hale (NHC Fellow, 2002–03)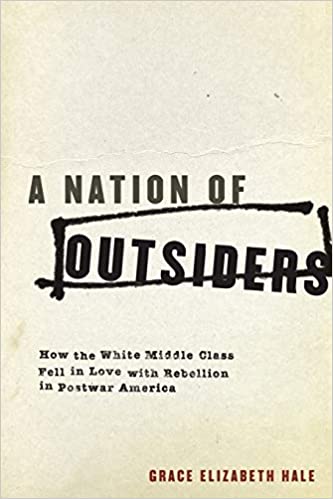 New York: Oxford University Press, 2010
From the publisher's description:
At mid-century, Americans increasingly fell in love with characters like Holden Caulfield in Catcher in the Rye and Marlon Brando's Johnny in The Wild One, musicians like Elvis Presley and Bob Dylan, and activists like the members of the Student Nonviolent Coordinating Committee. These emotions enabled some middle-class whites to cut free of their own histories and identify with those who, while lacking economic, political, or social privilege, seemed to possess instead vital cultural resources and a depth of feeling not found in "grey flannel" America.

In this wide-ranging and vividly written cultural history, Grace Elizabeth Hale sheds light on why so many white middle-class Americans chose to re-imagine themselves as outsiders in the second half of the twentieth century and explains how this unprecedented shift changed American culture and society. Love for outsiders launched the politics of both the New Left and the New Right. From the mid-sixties through the eighties, it flourished in the hippie counterculture, the back-to-the-land movement, the Jesus People movement, and among fundamentalist and Pentecostal Christians working to position their traditional isolation and separatism as strengths. It changed the very meaning of "authenticity" and "community."

Ultimately, the romance of the outsider provided a creative resolution to an intractable mid-century cultural and political conflict-the struggle between the desire for self-determination and autonomy and the desire for a morally meaningful and authentic life.
Subjects
History
/
Middle Class
/
Social History
/
American History
/
Popular Culture
/
Cultural History
/
---
Hale, Grace Elizabeth (NHC Fellow, 2002–03). A Nation of Outsiders: How the White Middle Class Fell in Love with Rebellion in Postwar America. New York: Oxford University Press, 2010.