page
(re)Centering the Narrative: Black Women's Voices of the 19th and 20th Centuries
Teaching African American Studies Summer Institute
July 10–14, 2023 at the National Humanities Center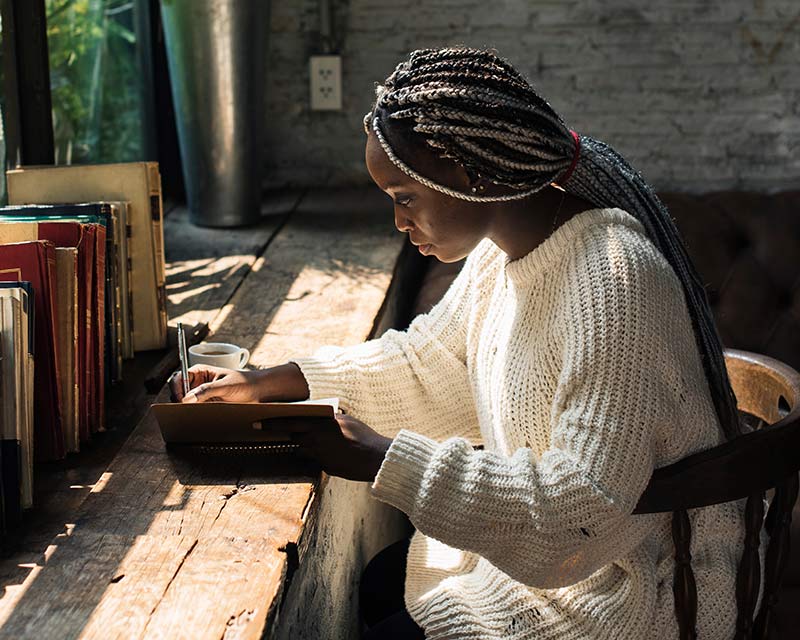 Seeing how the literature of their time failed to reflect the truth of their lives, many Black women began writing to fill that void—to provide more accurate examples of their experiences. And in sharing their stories in fiction and other genres, these authors expanded not only the perspectives available but also began to experiment with traditional literary tropes and forms, offering up familiar voices from their communities and the sound of the streets.
This week-long institute will explore the voices of Black women as they have documented, inspired, and reflected the Black experience in the nineteenth and twentieth centuries. Participants will engage with literature and poetry, primary sources, and the historical record to center Black women in the African American identity.
In partnership with the Ruth J. Simmons Center for Race and Justice at Prairie View A&M University, the National Humanities Center is proud to host the second annual Teaching African American Studies Summer Institute. Open to all K–12 educators, this program will provide an immersive, hands-on learning experience to better understand the approaches and the historical perspective required to create and teach African American studies. Participants will work with scholars of African American studies to better understand the complexities of the field and the introduction of key concepts in the K–12 classroom. Each day's sessions will include readings and viewings, primary source analysis, and expert scholarship from NHC Fellows.
Apply Now
All current K–12 educators are eligible for this program. However, this institute is primarily designed for middle grades (6–8) and secondary level (9–12) educators. Applicant must be a full-time educator for the 2023–24 academic year. Participants will be selected from a competitive application pool. Each will receive a stipend for successful completion of the institute, and all travel expenses will be covered in full.
COVID-19 Policy: The National Humanities Center requires all guests to provide documentation of vaccination. We require an initial vaccination of two consecutive doses of the Pfizer or Moderna vaccines or one dose of the Johnson & Johnson vaccine. We also require that you receive at least one booster dose. If selected for this program, you must submit an image of your vaccination record. While visiting the NHC, we require masking indoors in common areas at all times, except when eating.
To be considered, please submit the following three pdf documents via this application form by March 15, 2023 at 5:00pm ET. Selection announcements will be made April 1, 2023.
Letter of interest (1-page maximum)
Letter of support from direct supervisor
Current CV or resume (5-page maximum)
For more information, contact NHC Education Programs.

Facilitators



Marco Robinson

Assistant Director of the Ruth J. Simmons Center for Race and Justice; Associate Professor of History, Prairie View A&M University




Mike Williams

Director of Education Programs, National Humanities Center




Raven Ferguson

Education Programs Coordinator, National Humanities Center