page
Graduate Student Summer Residency: Becoming a Modern Scholar
July 15–19, 2024 at the National Humanities Center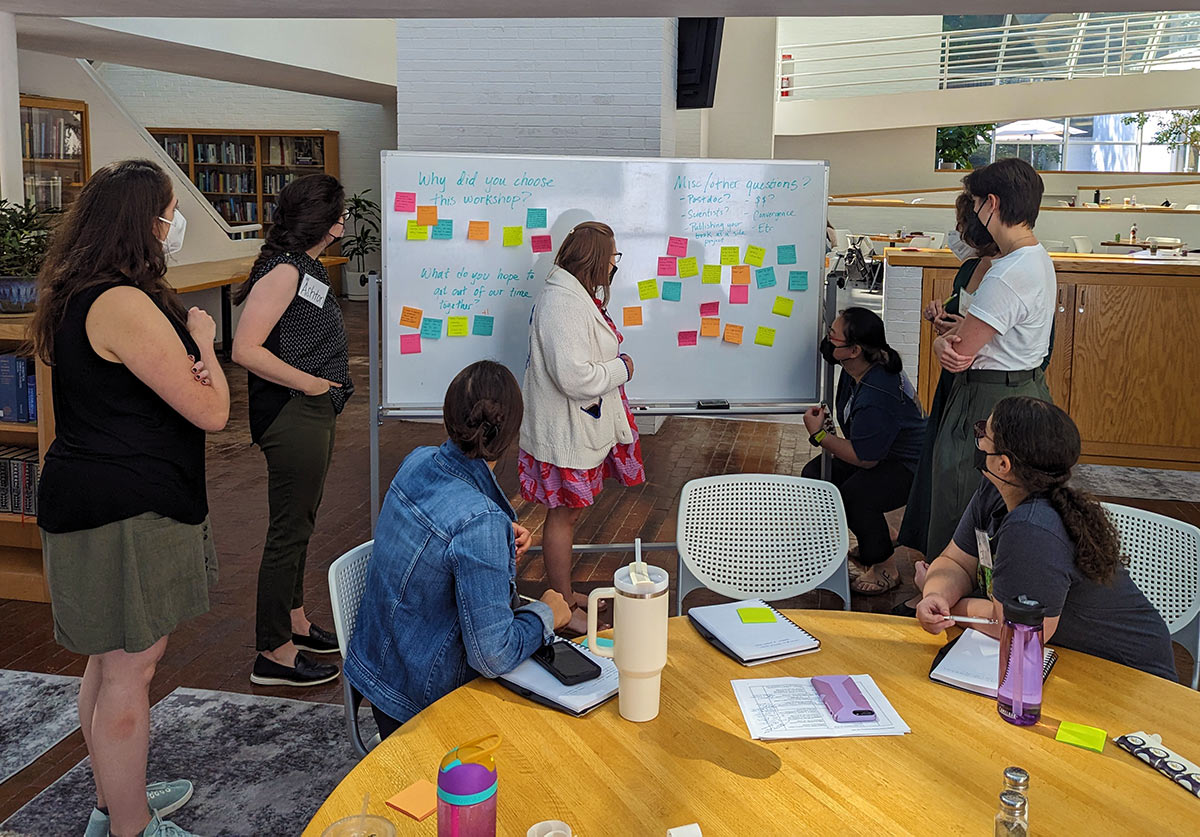 Since 2015, the National Humanities Center (NHC) has offered graduate students in humanities doctoral programs an opportunity to learn about and experience best practices in teaching and learning. Each year, a cohort of students working in small teams creates materials ready for the job market. The design of the residency requires direct and collegial work among students from different universities and disciplines, creating opportunities to engage with a much broader network of humanities professionals.
Program Overview
This five-day, in-person residency will model best practices for undergraduate teaching in the humanities classroom. Participants will learn grant writing skills, engage with public scholarship, and discuss humanities-focused careers paths inside and outside the academy. Graduate student cohorts will learn from university professionals, and participants will also have opportunities to work with each other through interactive sessions and projects.
Topics will include:
Building Community, Relationships, and a Professional Network
Accessibility Practices
Best Practices for Crafting a CV
Grant Writing for Research Projects
How to Become a Public Scholar
File Management for Research Projects
Praise from Previous GSSR Participants
"I have not felt this excited about my work, my field, or academia in general in years. This has lit a spark, that I hope to carry on, to finish my work and it has made me excited about both the prospects of what my degree can do, but also about the variety and range of applicable options."
"This is a unique environment that combines students from all humanities fields. It has felt like such a welcoming and overwhelmingly encouraging place to be. It has also inspired me to think about collaborative projects in a way I had not."
Program Goals
The Graduate Student Summer Residency program focuses each year on a specific pedagogical theme paired with an emerging technology. Throughout the program, participants will work in cross-university and interdisciplinary teams to create instructional and professional materials for their portfolio. Sessions will be designed and led by established scholars in the humanities who can model innovative uses of instructional technology in their research and teaching. Workshops will provide participants with hands-on experience in connecting their own research to practice.
The primary goals for this program include:
Training participants on the development of classroom-ready materials for the university classroom, including familiarizing them with the most recent research on learning sciences
Providing structured feedback on the practice and implementation of writing for a broader audience rather than solely an academic one
Developing and recognizing skills that are marketable and valuable in the job search
Bolstering participants' CVs through selection to and completion of the National Humanities Center's Graduate Student Summer Residency program
"I feel motivated to get back into my work after talking with my peers and hearing the passion of the speakers. I feel like I have a more realistic view of the humanities and where the field is going."
"Working with scholars in fields outside my own was a refreshing change of pace that helped me broaden my perspective and feel more confident in the quality and value of my own work."
"I felt limited by the humanities prior to coming. Now I understand that being in the humanities offers boundless opportunities and possibilities."
More than simply developing a strong pedagogical understanding, this program will also provide a broader introduction to the NHC and its work in humanities education and outreach. These activities will aim to:
Integrate the work of the residency to provide more access to ongoing NHC initiatives and workplace culture
Identify a theme with strong cross-disciplinary opportunities that encourages advocacy and outreach at the school, university, and national level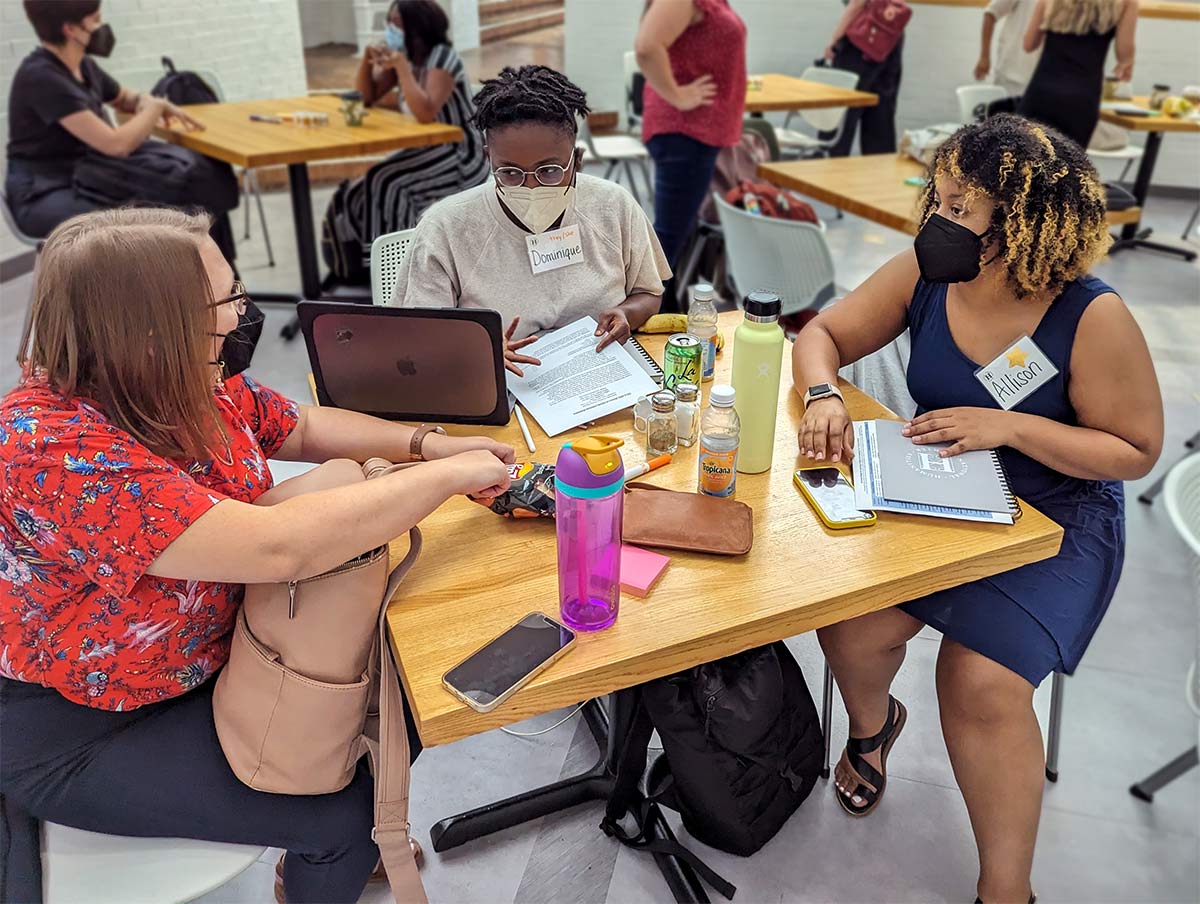 Application Process
Registration will open fall 2023. To receive registration updates, please sign up here.
The selection process will be designed and led by the institution, which can nominate up to four students annually. NHC staff are available to work with university representatives to develop recruiting materials, including an orientation meeting with faculty and students. We expect to reach a capacity of 45 graduate students quickly, so we urge participating institutions to indicate their interest and submit applications as soon as possible. Once selected, students will work with NHC staff to finalize travel plans, complete all required paperwork, and prepare for the residency program. Participants will also participate in a short welcome orientation video conference.
The tuition cost per participant is $2,500 and covers all programming for the NHC Graduate Student Summer Residency, including materials, lodging, transportation, and lunch and breakfast daily. The tuition per participant without lodging is $1,750. We will ask the participants if they need lodging in their intake form.
For more information, contact Meredith Graham, associate director of Education Programs and Digital Projects.

Next Steps and Timeline
Institutional sponsors will complete the following steps:
March 15, 2024: University partners commit to sending participants. The NHC works with representatives to develop marketing and recruitment strategies.
March 29, 2024: University partners submit nominations for current humanities PhD students for a position in the residency program.
By April 1, 2024: The NHC will establish contact with participants, schedule a virtual orientation, and share expectations.