Since 1992, the National Humanities Center has provided college and university faculty with opportunities to deepen their knowledge and find intellectual renewal under the guidance of leading scholars.
With an emphasis on interdisciplinary connections, these seminars encourage learning about new ways to apply scholarly research to college-level teaching.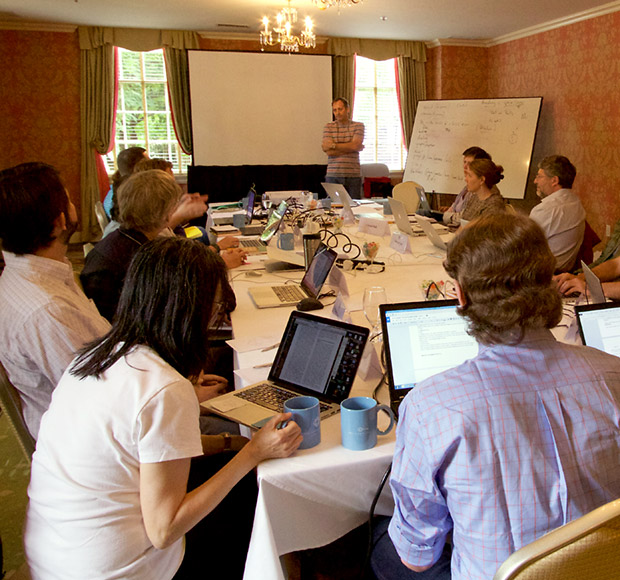 Public Humanities
The Center supports the increased turn and value of public-facing humanities projects, particularly when emerging technologies are applied to critical questions. Scholarship and expert voices are essential in demonstrating how the humanities can guide us through contemporary problems and issues.
Upcoming Projects
Podcasting the Humanities: Creating Digital Stories for the Public
June 12–16, 2023
Previous Projects
---
Curriculum Design
The Center facilitates the development of undergraduate curriculum based on best practices of disciplinary pedagogy. Emerging scholarship and interactive technology are important elements, and resources and materials are developed and shared using Open Education Resource (OER) methodology.
Responsible Artificial Intelligence Curriculum Design Project
June 20–24, 2022
---
Summer Institutes in Literary Studies
From 2003 to 2013, with support from the Andrew W. Mellon Foundation, the Center hosted early career literary scholars for week-long, in-depth study of selected works of literature with distinguished senior colleagues.
2013
Versions of The Winter's Tale: Theater, Literature, Film, and Philosophy
Sarah Beckwith (NHC Fellow, 1994–95; 2012–13), English and Theater Studies, Duke University
Tom McCarthy's Remainder
Walter Benn Michaels, English, University of Illinois at Chicago
2012
Andrew Marvell: Theater, Lyric and Public Poems
Nigel Smith (NHC Fellow, 2007–08), Ancient and Modern Literature, Princeton University
Form and Politics in the Work of J. M. Coetzee
Robert Pippin (Center Trustee), Philosophy, University of Chicago
2011
Reading The Golden Notebook
Toril Moi (NHC Fellow, 1994–95), Literature and Romance Studies, English and Theater Studies, Duke University
Decisions and Revisions: The Art of T. S. Eliot's Poetry
Christopher Ricks, Humanities, Boston University
2010
Reading Thomas Hardy's Jude the Obscure
Kate Flint (NHC Fellow, 2007–08; 2015–16), English, University of Southern California
Five by Five: The Short Story as Art and Artifact
Louis Menand, English, American Literature and Language, Harvard University
2009
Reading Baudelaire's Les Fleurs du Mal
Jonathan Culler (NHC Fellow, 2011–12), English and Comparative Literature, Cornell University
Shakespeare in Slow Motion
Marjorie Garber, English, Visual and Environmental Studies, Harvard University
2008
Chaucer: Past, Present, and Future
Seth Lerer, English and Comparative Literature, University of Southern California
Forms of Life in Emily Dickinson's Poetry
Sharon Cameron, English, Johns Hopkins University
2007
Readings in the King James Bible
James Wood, Literary Criticism, Harvard University
Joseph Conrad's Under Western Eyes
Michael Wood (NHC Fellow, 2008–09), Comparative Literature, Princeton University
2005
Benjamin Franklin: Reader, Writer, and Printer
Peter Stallybrass, English, Comparative Literature, and Literary Theory, University of Pennsylvania
Laurence Sterne's Tristram Shandy
Deidre Shauna Lynch (NHC Fellow, 2000–01), English, Indiana University Bloomington
2004
Five Major Odes
Susan Stewart, English, University of Pennsylvania
Gustave Flaubert's Sentimental Education
Frances Ferguson (Center Trustee; NHC Fellow, 2003–04), English, Johns Hopkins University
2003
Jane Austen's Emma
Patricia Meyer Spacks (Center Trustee; NHC Fellow, 1982–83; 1988–89), English and American Literature, Yale University
The Poetry of William Butler Yeats
Helen Vendler (Center Trustee), English and American Literature, Harvard University
---
DuPont Summer Seminars
From 1992 to 2016, with the generous support of the Jessie Ball duPont Fund, the National Humanities Center welcomed cohorts of liberal arts college faculty to investigate compelling topics in the humanities. Previous seminars include:

2016
Immigration and Citizenship
Kunal M. Parker (NHC Fellow, 2014–15), Government, Law, & Political Science, University of Miami
The Spatial Humanities
John Corrigan (NHC Fellow, 2014–15), Religion & Theology, Florida State University
2015
Social Crime Fiction
Ruth Morse (NHC Fellow, 2012–13), English & American Literature, Université Paris-Diderot, Sorbonne
Sounds Studies
Charles McGovern (NHC Fellow, 2013–14), American Studies and History, College of William & Mary
2015
Constructing Children: Words and Pictures
Laurie Langbauer (NHC Fellow, 2011–12), English & American Literature, University of North Carolina at Chapel Hill
Globalization and Modern Capitalism
Edward J. Balleisen (NHC Fellow, 2009–10), History, Duke University
2013
Cross-Cultural Encounters and Exchanges in the Age of Empire
Dane Keith Kennedy (NHC Fellow, 2010–11), History, George Washington University
2012
"Use Them All": The Humanities and Environmental Study
James Engell (NHC Fellow, 2010–11), English & Comparative Literature, Harvard University
Christian Apocrypha
Bart D. Ehrman (NHC Fellow, 2009–10; 2018–19), Religious Studies, University of North Carolina at Chapel Hill
2011
Exotic Wisdom: Encounters with the Religious Other in Pre-Islamic West Asia
Jason BeDuhn (NHC Fellow, 2009–10), Religious Studies, Northern Arizona University
The Concept of the Savage: Fact, Fiction, and Factual Fiction
Parker Shipton (NHC Fellow, 2008–09), Anthropology, Boston University
2010
The Self: Knowledge, Memory, and Imagination
John M. Doris (NHC Fellow, 2008–09), Philosophy, Washington University in St. Louis
Worried Sick, Worried Well
Nancy Tomes (NHC Fellow, 1999–00), History, Stony Brook University